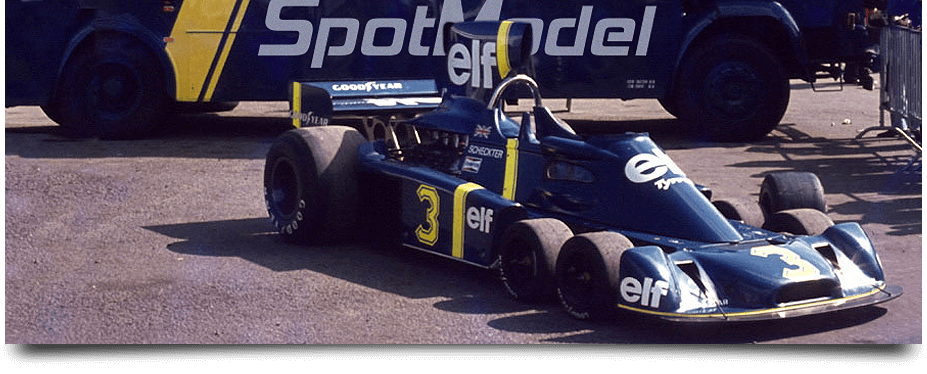 The launching of the P34
It is well known that at
SpotModel
we do everything possible to incorporate the best and biggest amount of information possible in the description of the products we offer, because not only we LOVE building scale models: we also LOVE the world of motors and their history, even if sometimes we have made mistakes in the interpretation of a certain event. And the thing is, who hasn't made a mistake every now and then? XD
One of our passionate, expert and focused clients recently told us about his knowledge and experiences, giving his two cents to one of the latest references launched by
Studio27
, the transkit of the
Tyrrell P34
in
1/20 scale
for the
Tamiya
scale model. So the question is: when did the P34 debut? Do you have to take as a landmark the first official GP in which it raced or the first time it participated in an event, even if that event was not officially scoring?
Jody Scheckter
first got behind the wheel of the
P34
at the
1976 BRDC International Trophy
held at
Silverstone
. In fact, when searching for pictures, it is usual to find pictures of
Jody
in the
P34
, interpreting that the third place he achieved in this race was with this car. But this is when our expert customers show all their knowledge and guide us towards what really happened, and that is that due to a lack of confidence with the new model just presented,
Scheckter
finally raced with the usual
Tyrrell 007
, leaving the official racing debut of the
P34
for the next event, the
1976 Spanish Grand Prix
held at the
Jarama
circuit. And another very interesting fact is that the
Tyrrell P34
presented at Silverstone is the only one that was fitted with the high air intake, since they were forbidden precisely from the Spanish GP onwards.
The moral of the story? If the car shows a high air intake in a picture, it will be before May 1976, which is the version of the
Studio27
transkit.
How much you learn with scale modeling, with
SpotModel
and with our customers!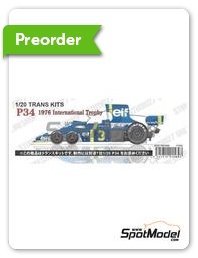 Studio27: Transkit 1/20 scale - Tyrrell Ford P34 Tyrrell Racing Team sponsored by Elf #3 - Jody Scheckter (ZA) - BRDC International Trophy 1976 - photo-etched parts, resin parts, water slide decals, white metal parts and assembly instructions - for Tamiya reference TAM20058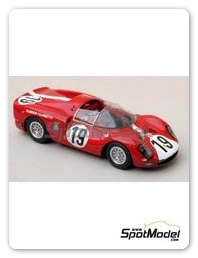 Renaissance Models: Car scale model kit 1/43 scale - Ferrari 365 P2 Scuderia Filipinetti Team #19 - Willy Mairesse (BE) + Herbert Müller (CH) - 24 Hours Le Mans 1966 - photo-etched parts, resin parts, rubber parts, turned metal parts, vacuum formed parts, water slide decals, white metal parts, other materials and assembly instructions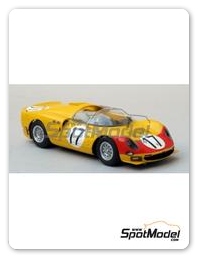 Renaissance Models: Car scale model kit 1/43 scale - Ferrari 365 P2 Ecurie Francorchamps Team #17 - Pierre Dumay (FR) + Jean 'Beurlys' Blaton (BE) - 24 Hours Le Mans 1966 - photo-etched parts, resin parts, rubber parts, turned metal parts, vacuum formed parts, water slide decals, white metal parts, other materials and assembly instructions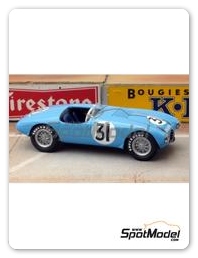 Renaissance Models: Car scale model kit 1/43 scale - Gordini T20s/T23s #31, 64, 94, 518, 607 - André Moynet (FR) + Henri "Charles Rinen" de Clarens (FR), Franco Bordoni (IT), Salvatore Casella (IT), Salvatore Casella (IT) + Vinicio Puccini (IT), Franco Bordoni (IT) + Cetti Serbelloni (IT) - 24 Hours Le Mans, Mille Miglia, Targa Florio 1953 and 1954 - photo-etched parts, resin parts, rubber parts, turned metal parts, vacuum formed parts, water slide decals, other materials and assembly instructions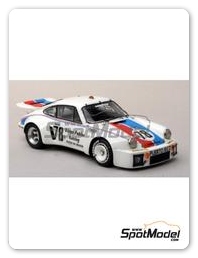 Renaissance Models: Car scale model kit 1/43 scale - Porsche 911 Carrera RSR Diego Febles Racing Team #78 - Diego Febles (PR) + Alec Poole (IE) + Hiram Cruz (US) - 24 Hours Le Mans 1976 - photo-etched parts, resin parts, rubber parts, turned metal parts, vacuum formed parts, water slide decals, white metal parts, other materials and assembly instructions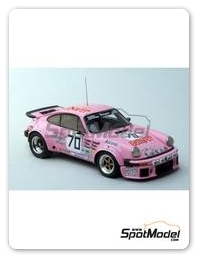 Renaissance Models: Car scale model kit 1/43 scale - Porsche 911 Turbo RSR Type 934 sponsored by Denver #70 - Valentin Bertapelle (FR) + Thierry Perrier (FR) + Bernard Salam (FR) - 24 Hours Le Mans 1981 - photo-etched parts, resin parts, rubber parts, turned metal parts, vacuum formed parts, water slide decals, other materials and assembly instructions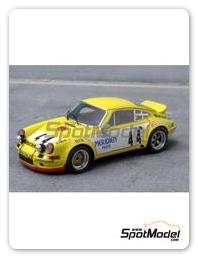 Renaissance Models: Car scale model kit 1/43 scale - Porsche 911 Carrera 2.8 Porsche Club Romand Team sponsored by Unichrom #44 - Jean-François Piot (FR) + Peter Zbinden (CH) - 24 Hours Le Mans 1973 - photo-etched parts, resin parts, rubber parts, turned metal parts, vacuum formed parts, water slide decals, white metal parts, other materials and assembly instructions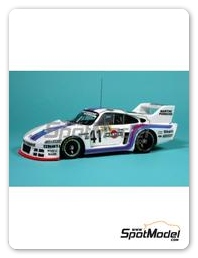 Renaissance Models: Car scale model kit 1/43 scale - Porsche 935/2 Martini Racing Porsche System Team #41 - Rolf Stommelen (DE) + Manfred Schurti (LI) - 24 Hours Le Mans 1977 - photo-etched parts, resin parts, rubber parts, turned metal parts, vacuum formed parts, water slide decals, white metal parts, other materials and assembly instructions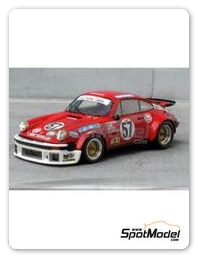 Renaissance Models: Car scale model kit 1/43 scale - Porsche 911 Turbo RSR Type 934 sponsored by JP Gaban #57 - Willy Braillard (BE) + Nicolas Koob (LU) + Guillermo Ortega (EC) - 24 Hours Le Mans 1977 - photo-etched parts, resin parts, rubber parts, turned metal parts, vacuum formed parts, water slide decals, white metal parts, other materials and assembly instructions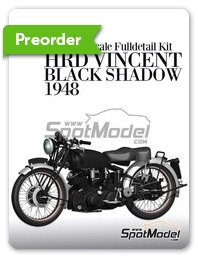 Model Factory Hiro: Motorbike scale model kit 1/9 scale - Vincent Black Shadow 1948 - photo-etched parts, resin parts, rubber parts, turned metal parts, water slide decals, white metal parts, other materials and assembly instructions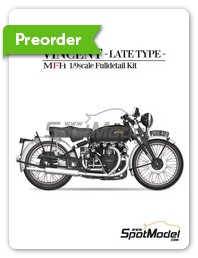 Model Factory Hiro: Motorbike scale model kit 1/9 scale - Vicent Black Shadow 1950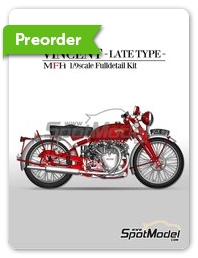 Model Factory Hiro: Motorbike scale model kit 1/9 scale - Vicent White Shadow 1950 - metal parts, photo-etched parts, resin parts, rubber parts, turned metal parts, water slide decals, white metal parts, assembly instructions and painting instructions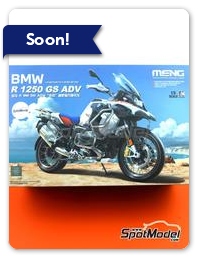 Meng Model: Motorbike scale model kit 1/9 scale - BMW R 1250 GS ADV - metal parts, photo-etched parts, plastic parts, rubber parts, water slide decals, other materials, assembly instructions and painting instructions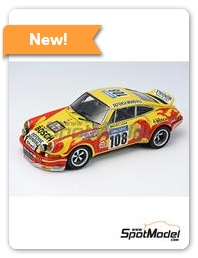 Arena Modelli: Car scale model kit 1/43 scale - Porsche 911 Carrera RSR 3.0 Sonauto Team sponsored by Defense Mondiale #108 - Claude Ballot-Léna (FR) + Jean-Claude Morénas (FR) - Tour de France Automobile 1973 - photo-etched parts, resin parts, rubber parts, turned metal parts, water slide decals, other materials and assembly instructions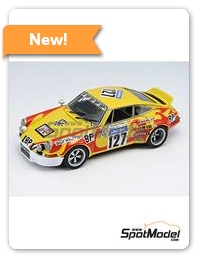 Arena Modelli: Car scale model kit 1/43 scale - Porsche 911 Carrera RSR Sonauto Team sponsored by BP #127 - Anne-Charlotte Verney (FR) + Marie-Madeleine Fouquet (FR) - Tour de France Automobile 1974 - photo-etched parts, resin parts, rubber parts, turned metal parts, water slide decals, other materials and assembly instructions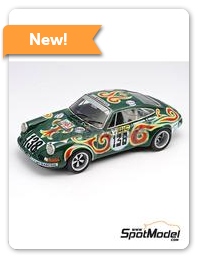 Arena Modelli: Car scale model kit 1/43 scale - Porsche 911 2.2S sponsored by Sev Marchal #138 - Jean Egreteaud (FR) + Guy Rolland (FR) - Tour de France Automobile 1970 - photo-etched parts, resin parts, rubber parts, turned metal parts, water slide decals, other materials and assembly instructions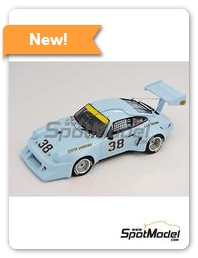 Arena Modelli: Car scale model kit 1/43 scale - Porsche 911 Carrera RSR sponsored by Davis Leasing #38 - John Paul (US) - Mid-America 100 Miles 1977 - photo-etched parts, resin parts, rubber parts, turned metal parts, water slide decals, other materials and assembly instructions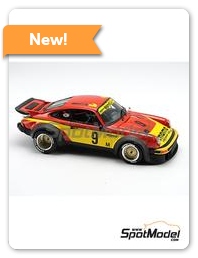 Arena Modelli: Car scale model kit 1/43 scale - Porsche 934 sponsored by Momo #9 - Vittorio Brambilla (IT) + Gianpiero Moretti (IT) - 6 Hours Silverstone 1977 - photo-etched parts, resin parts, rubber parts, turned metal parts, water slide decals, other materials and assembly instructions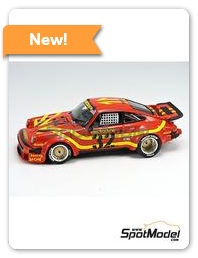 Arena Modelli: Car scale model kit 1/43 scale - Porsche 934 Electrodyne Racing Team #32 - Chester Vincentz (US) + Dave White (US) - Mid Ohio 500 Miles 1979 - photo-etched parts, resin parts, rubber parts, turned metal parts, water slide decals, other materials and assembly instructions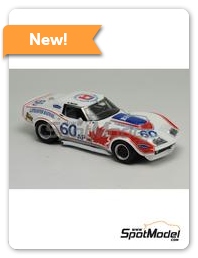 Arena Modelli: Car scale model kit 1/43 scale - Chevrolet Corvette C3 sponsored by BFG #60 - Jacques Duval (CA) + Al Mason (CA) - Canadian Endurance Series 1973 - photo-etched parts, resin parts, rubber parts, water slide decals, white metal parts and assembly instructions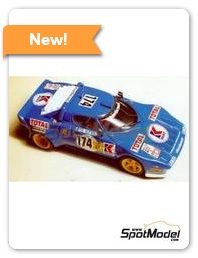 Arena Modelli: Car scale model kit 1/43 scale - Lancia Stratos HF Chardonnet Team #174, 180 - Bernard Darniche (FR) + Alain Mahé (FR) - Tour de France Automobile 1975 and 1977 - photo-etched parts, resin parts, rubber parts, turned metal parts, water slide decals and assembly instructions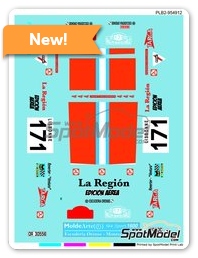 Print Lab Decals: Marking / livery 1/24 scale - Seat Fiat 124 Sport 1600 sponsored by La Región #171 - Estanislao Reverter (ES) + Antonio 'Ventura' Freire (ES) - Monte Carlo Rally - Rallye Automobile de Monte-Carlo 1972 - water slide decals manufactured with digital technology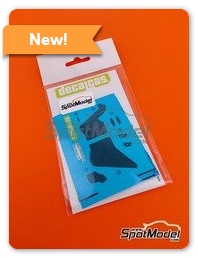 Decalcas: Spare part 1/12 scale - Ducati Superleggera V4: Exhaust decals - water slide decals manufactured with digital technology - for Decalcas reference DCL-PAR085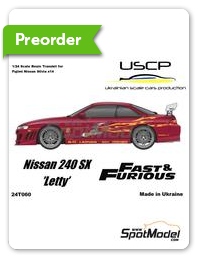 USCP: Transkit 1/24 scale - Nissan 240SX S14 sponsored by Fast and Furious - Letty Ortiz (US) - 3D printed parts, photo-etched parts, resin parts, rubber parts, water slide decals manufactured with digital technology and assembly instructions - for Fujimi references FJ03412, ID-84, FJ03422, ID-69, FJ034386, FJ034850, ID-48, 03485, FJ039275, ID-84, 03927 and FJ040431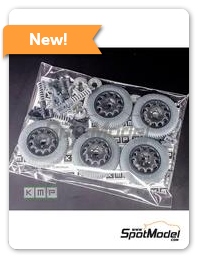 KMP Kool Models Production: Snow conversion set 1/24 scale - Hyundai i20 WRC+ - 3D printed parts and water slide decals manufactured with digital technology - for Belkits references BEL014, BEL-014, BEL021 and BEL-021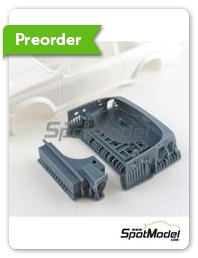 Scalecars.Online: Detail up set 1/24 scale - Ford Sierra RS Cosworth - Fuel tank + Trunk - 3D printed parts - for Tamiya references TAM24080 and TAM24081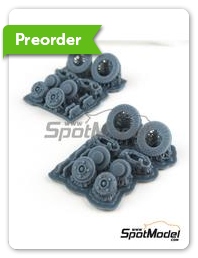 Scalecars.Online: Brakes 1/24 scale - Ford Sierra RS Cosworth - 3D printed parts - for Tamiya references TAM24080 and TAM24081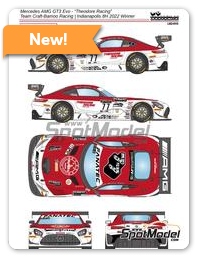 LB Production: Marking / livery 1/24 scale - Mercedes Benz AMG GT3 Evo Craft Bamboo Racing Team sponsored by Theodore Racing #77 - Daniel Juncadella (ES) + Raffaele Marciello (IT) + Daniel Morad (CA) - Indianapolis 8 Hour 2022 - paint masks, water slide decals and placement instructions - for LB Production reference LB-TK14, or Tamiya references TAM24345 and TAM24350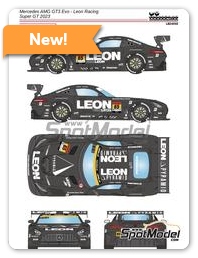 LB Production: Marking / livery 1/24 scale - Mercedes Benz AMG GT3 Evo Leon Racing Team #65 - Naoya Gamou (JP) + Takuro Shinohara (JP) - Autobacs Super GT Series 2023 - water slide decals and placement instructions - for LB Production reference LB-TK14, or Tamiya references TAM24345 and TAM24350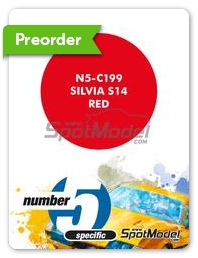 Number Five: Paint for airbrush - Silvia S14 Red - 1 x 30ml - for USCP reference 24T060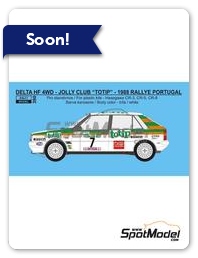 Reji Model: Marking / livery 1/24 scale - Lancia Delta HF 4WD Jolly Club Team sponsored by Totip #7 - Yves Loubet (FR) + Jean-Bernard Vieu (FR) - Portugal Rally - Vinho do Porto 1988 - photo-etched parts, resin parts, water slide decals and assembly instructions - for Hasegawa references 20289, 20343, 25005, CR-5, 20573, 25208 and HACR08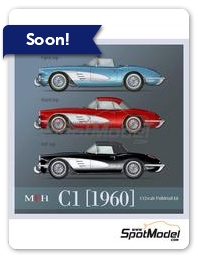 Model Factory Hiro: Car scale model kit 1/12 scale - Chevrolet Corvette C1 1960 - photo-etched parts, resin parts, rubber parts, turned metal parts, water slide decals, white metal parts, other materials, assembly instructions and painting instructions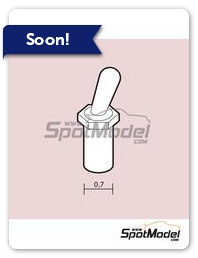 Scalecars.Online: Detail 1/24 scale - Switches On/Off - 3D printed parts - 40 units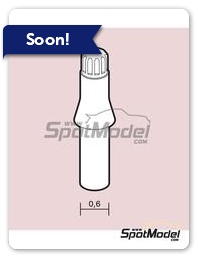 Scalecars.Online: Air valve 1/24 scale - Tire valves type 1 - 3D printed parts - 40 units
Scalecars.Online: Air valve 1/24 scale - Tire valves type 3 - 3D printed parts - 40 units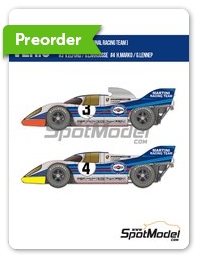 Model Factory Hiro: Car scale model kit 1/12 scale - Porsche 917K Martini International Racing Team #3, 4 - Vic Elford (GB) + Gérard Larrousse (FR), Helmut Marko (AT) + Gijs van Lennep (NL) - 1000 Kms Monza 1971 - photo-etched parts, resin parts, rubber parts, vacuum formed parts, water slide decals, white metal parts and assembly instructions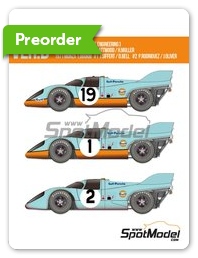 Model Factory Hiro: Car scale model kit 1/12 scale - Porsche 917K John Wyer Automotive Engineering Team sponsored by Gulf #1, 2, 19 - Richard Attwood (GB) + Herbert Müller (CH), Joseph 'Jo' Siffert (CH) + Derek Bell (GB), Pedro Rodriguez (MX) + Jackie Oliver (GB) - 1000 Kms Monza, 24 Hours Le Mans 1971 - photo-etched parts, resin parts, rubber parts, vacuum formed parts, water slide decals, white metal parts and assembly instructions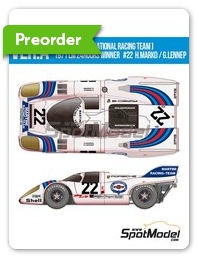 Model Factory Hiro: Car scale model kit 1/12 scale - Porsche 917K Martini International Racing Team #22 - Helmut Marko (AT) + Gijs van Lennep (NL) - 24 Hours Le Mans 1971 - photo-etched parts, resin parts, rubber parts, vacuum formed parts, water slide decals, white metal parts and assembly instructions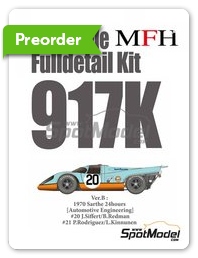 Model Factory Hiro: Car scale model kit 1/12 scale - Porsche 917K Automotive Engineering Team sponsored by Gulf #20, 21 - Joseph 'Jo' Siffert (CH) + Brian Redman (GB), Pedro Rodriguez (MX) + Leo Kinnunen (FI) - 24 Hours Le Mans 1970 - photo-etched parts, resin parts, rubber parts, turned metal parts, vacuum formed parts, water slide decals, white metal parts, assembly instructions and painting instructions
Copyright © SpotModel