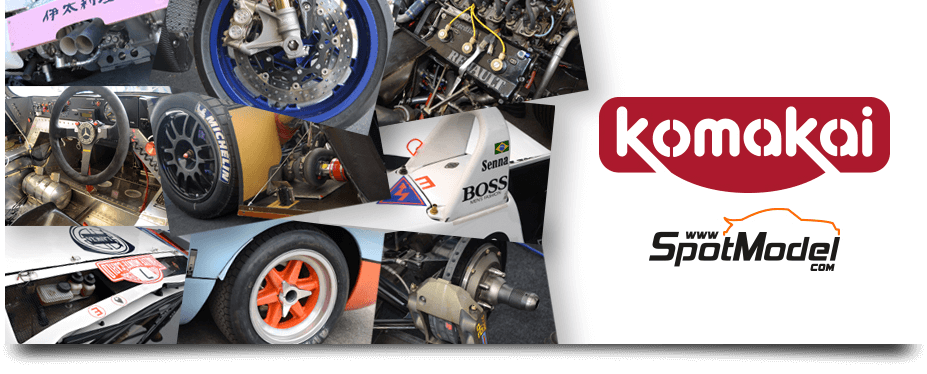 Komakai
A few days ago during the event in Jabbeke we chatted with many people. But with many, many, MAAANY people. We talked so much with them that when we got back we had to put a cast on our almost broken tongues...
Among all the subjects we talked about in the meeting, there was a topic that heavily caught our attention: most of the participants didn't know
Komakai
's books. Can you believe it? Absolutely incredible: the only brand on the market that produces books with explicit photographs of every single detail, nut, cable, spoiler, screw, brake, tire, etc. of the most important racing cars and motorcycles in the world, and there are still scale modelers who have not discovered them.
There are two ranges of books, the
Fast Guides
that contain 32 pages with the basic photographs you need on a vehicle, and the
Ultra Detail Guides
that can have more than 250 full-pages photographs and are designed for top-class scale modelers who want to accurately detail down to the last rivet of their models.
Four new books have been published in the last few days: the Fast Guides for the
Audi R8 LMS Evo
,
Brabham Alfa BT46B
and
Porsche 911 997 GT3R
, and the Ultra Detail Guide for the
McLaren Ford M23
of the 1974 Formula 1 World Championship.
Do you want to be a TOP modeler? You have all the
Komakai
books waiting for you at
SpotModel
.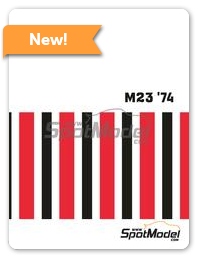 Komakai: Reference / walkaround book - McLaren Ford M23 - FIA Formula 1 World Championship 1974 - for Tameo Kits reference WCT074, or Tamiya references TAM12017, BS1217, TAM12045 and No.45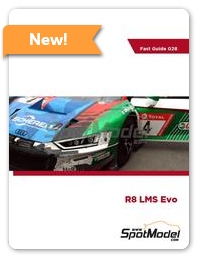 Komakai: Reference / walkaround book - Audi R8 LMS Evo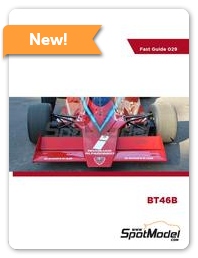 Komakai: Reference / walkaround book - Brabham Alfa BT46B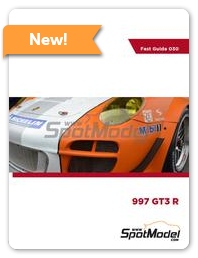 Komakai: Reference / walkaround book - Porsche 911 997 GT3R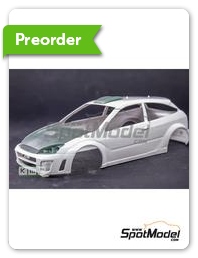 KMP Kool Models Production: Transkit 1/24 scale - Ford Focus WRC 2002-2003 - 3D printed parts - for Tamiya references TAM24217, TAM24241 and TAM24261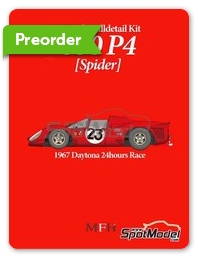 Model Factory Hiro: Car scale model kit 1/12 scale - Ferrari 330 P4 Spider Ferrari SPA Team #23 - Lorenzo Bandini (IT) + Chris Amon (NZ) - 24 Hours of Daytona 1967 - metal parts, photo-etched parts, resin parts, rubber parts, seatbelt fabric, turned metal parts, vacuum formed parts, water slide decals, white metal parts, assembly instructions and painting instructions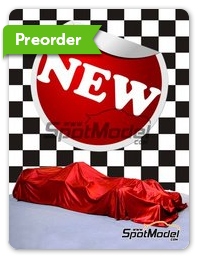 Model Factory Hiro: Car scale model kit 1/12 scale - Ferrari 330 P4 Spider Ferrari SEFAC Team #224 - Nino Vaccarella (IT) + Ludovico Scarfiotti (IT) - Targa Florio 1967 - metal parts, photo-etched parts, resin parts, rubber parts, seatbelt fabric, turned metal parts, vacuum formed parts, water slide decals, white metal parts, assembly instructions and painting instructions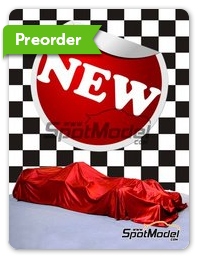 Model Factory Hiro: Car scale model kit 1/12 scale - Ferrari 330 P4 Spider SPA Ferrari SEFAC Team #20 - Chris Amon (NZ) + Nino Vaccarella (IT) - 24 Hours Le Mans 1967 - metal parts, photo-etched parts, resin parts, rubber parts, seatbelt fabric, turned metal parts, vacuum formed parts, water slide decals, white metal parts, assembly instructions and painting instructions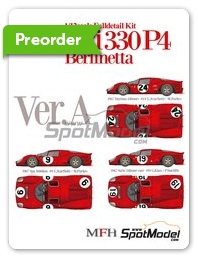 Model Factory Hiro: Car scale model kit 1/12 scale - Ferrari 330P4 Berlinetta SPA Ferrari SEFAC Team #9, 24, 19 - Ludovico Scarfiotti (IT) + Michael Johnson 'Mike' Parkes (GB), Günther Klass (DE) + Peter Sutcliffe (GB) - 24 Hours of Daytona, 24 Hours Le Mans, 1000 Kms SPA Francorchamps 1967 - photo-etched parts, resin parts, rubber parts, seatbelt fabric, turned metal parts, vacuum formed parts, water slide decals, white metal parts, assembly instructions and painting instructions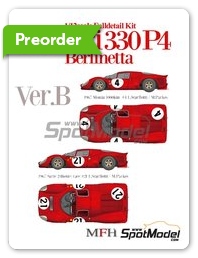 Model Factory Hiro: Car scale model kit 1/12 scale - Ferrari 330P4 Berlinetta SPA Ferrari SEFAC Team #4, 21 - Ludovico Scarfiotti (IT) + Michael Johnson 'Mike' Parkes (GB) - 1000 Kms Monza, 24 Hours Le Mans 1967 - photo-etched parts, resin parts, rubber parts, seatbelt fabric, turned metal parts, vacuum formed parts, water slide decals, white metal parts, assembly instructions and painting instructions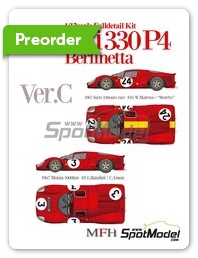 Model Factory Hiro: Car scale model kit 1/12 scale - Ferrari 330P4 Berlinetta Equipe Nationale Belge Team #3, 24 - Willy Mairesse (BE) + Jean 'Beurlys' Blaton (BE), Lorenzo Bandini (IT) + Chris Amon (NZ) - 1000 Kms Monza, 24 Hours Le Mans 1967 - photo-etched parts, resin parts, rubber parts, seatbelt fabric, turned metal parts, vacuum formed parts, water slide decals, white metal parts, assembly instructions and painting instructions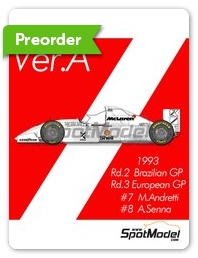 Model Factory Hiro: Car scale model kit 1/12 scale - McLaren Ford MP4/8 McLaren Racing Limited Team sponsored by M@r!b*r* #7, 8 - Michael Andretti (US), Ayrton Senna da Silva (BR) - Brazilian Formula 1 Grand Prix, European Formula 1 Grand Prix 1993 - photo-etched parts, resin parts, rubber parts, seatbelt fabric, turned metal parts, water slide decals, white metal parts, assembly instructions and painting instructions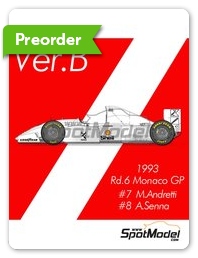 Model Factory Hiro: Car scale model kit 1/12 scale - McLaren Ford MP4/8 McLaren Racing Limited Team sponsored by M@r!b*r* #7, 8 - Michael Andretti (US), Ayrton Senna da Silva (BR) - Monaco Formula 1 Grand Prix 1993 - photo-etched parts, resin parts, rubber parts, seatbelt fabric, turned metal parts, water slide decals, white metal parts, assembly instructions and painting instructions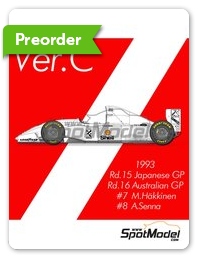 Model Factory Hiro: Car scale model kit 1/12 scale - McLaren Ford MP4/8 McLaren Racing Limited Team sponsored by M@r!b*r* #7, 8 - Mika Häkkinen (FI), Ayrton Senna da Silva (BR) - Australian Formula 1 Grand Prix, Japanese Formula 1 Grand Prix 1993 - 3D printed parts, CNC metal parts, photo-etched parts, resin parts, rubber parts, seatbelt fabric, turned metal parts, water slide decals, white metal parts, other materials, assembly instructions and painting instructions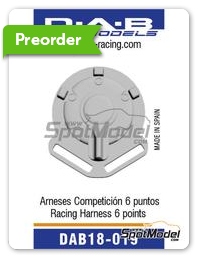 D.A.B. Models: Seatbelts 1/18 scale - Racing harness 6 points - 3D printed parts - 2 units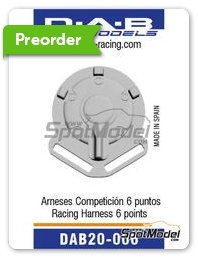 D.A.B. Models: Seatbelts 1/20 scale - Racing harness 6 points - 3D printed parts - 2 units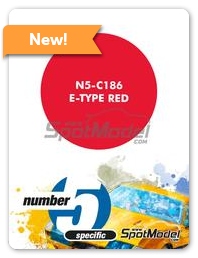 Number Five: Paint for airbrush - E-Type Red - 1 x 30ml - for Revell references REV07668 and REV07717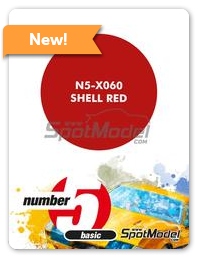 Number Five: Paint for airbrush - Shell Red - 1 x 30ml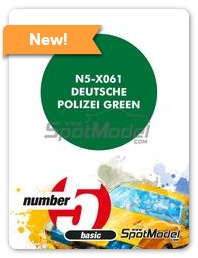 Number Five: Paint for airbrush - Deutsche Polizei Green - 1 x 30ml - for Italeri reference 3666, or Revell reference REV07940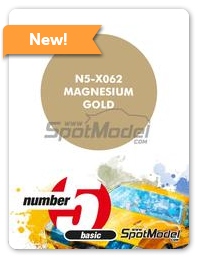 Number Five: Paint for airbrush - Magnesium Gold - 1 x 30ml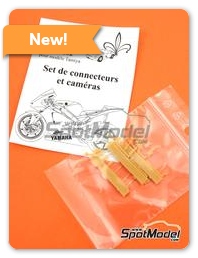 Renaissance Models: Detail 1/12 scale - Connectors and cameras for Moto GP - resin parts - 23 units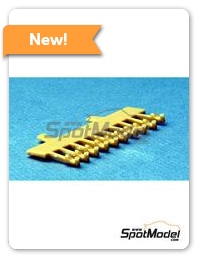 Renaissance Models: Detail 1/12 scale - Moto GP poll cameras - resin parts - 10 units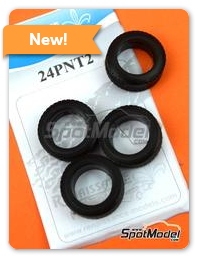 Renaissance Models: Tyre set 1/24 scale - Asymmetrical gravel tires for rally cars - rubber parts - 4 units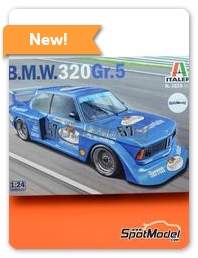 Italeri: Car scale model kit 1/24 scale - BMW 320i Group 5 GS Tuning Team sponsored by Fruit of the Loom #57 - Markus Höttinger (AT) - Deutsche Rennsport Meisterschaft DRM 1978 - plastic parts, rubber parts, water slide decals, assembly instructions and painting instructions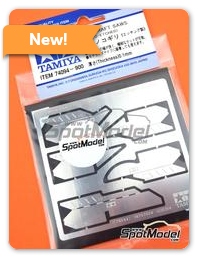 Tamiya: Hobby tool - Fine Craft Saws 0,1mm - photo-etched parts - for Tamiya reference TAM74040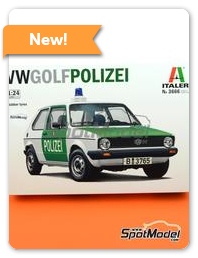 Italeri: Car scale model kit 1/24 scale - Volkswagen Golf I Polizei - plastic parts, rubber parts, water slide decals and assembly instructions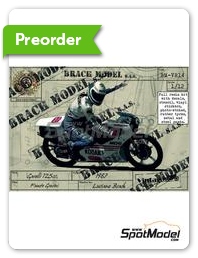 Brach Model: Motorbike scale model kit 1/12 scale - Garelli 125cc sponsored by Kodak #2 - Fausto Gresini (IT) - Motorcycle World Championship 1987 - metal parts, paint masks, photo-etched parts, resin parts, rubber parts, vacuum formed parts, other materials, assembly instructions and painting instructions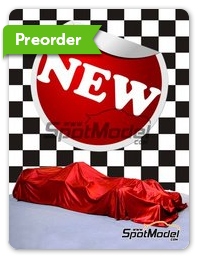 KMP Kool Models Production: Rims and tyres set 1/24 scale - OZ 16 Inches for Ford Sierra Cosworth 4x4 - 3D printed parts - for D.Modelkits references DM-K001 and DM-K002 - 4 units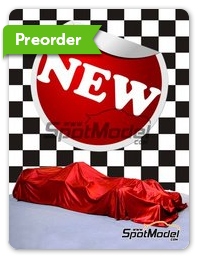 KMP Kool Models Production: Rims and tyres set 1/24 scale - Compomotive 16 Inches for Ford Sierra Cosworth 4x4 - 3D printed parts - for D.Modelkits references DM-K001 and DM-K002 - 4 units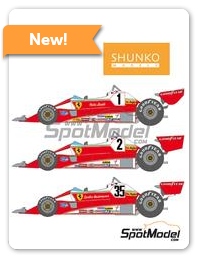 Shunko Models: Marking / livery 1/20 scale - Ferrari 312T2 Scuderia Ferrari Team #1, 2, 35 - Niki Lauda (AT), Clay Regazzoni (CH), Carlos Reutemann (AR) - Italian Formula 1 Grand Prix, Japanese Formula 1 Grand Prix, Monaco Formula 1 Grand Prix 1976 - water slide decals and placement instructions - for Hasegawa references HAFG1, 23201 and FG-1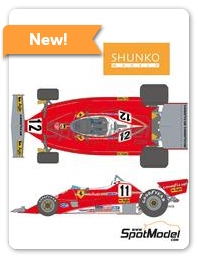 Shunko Models: Marking / livery 1/20 scale - Ferrari 312T2 Scuderia Ferrari Team #11, 12 - Niki Lauda (AT), Carlos Reutemann (AR) - Brazilian Formula 1 Grand Prix 1977 - water slide decals and placement instructions - for Hasegawa references HAFG1, 23201 and FG-1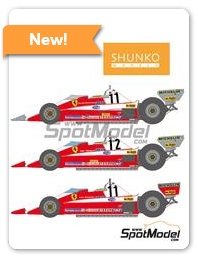 Shunko Models: Marking / livery 1/20 scale - Ferrari 312T3 Scuderia Ferrari Team #11, 12 - Carlos Reutemann (AR), Gilles Villeneuve (CA), Jody Scheckter (ZA) - Brazilian Formula 1 Grand Prix, Canadian Formula 1 Grand Prix, British Formula 1 Grand Prix 1978 and 1979 - water slide decals and placement instructions - for Tamiya references TAM20010 and TAM20051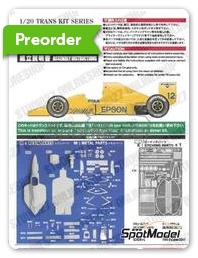 Studio27: Marking / livery 1/20 scale - Lotus Judd Type 101 Lotus Team sponsored by Camel Epson #11, 12 - Nelson Piquet (BR), Satoru Nakajima (JP) - FIA Formula 1 World Championship 1989 - photo-etched parts, resin parts, vacuum formed parts, water slide decals, white metal parts, assembly instructions and tobacco sponsor decals - for Tamiya reference TAM20030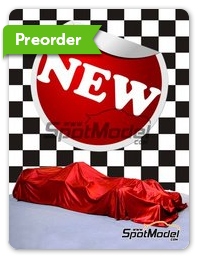 KMP Kool Models Production: Tarmac conversion set 1/24 scale - Hyundai i20 WRC+ - 3D printed parts - for Belkits references BEL014, BEL-014, BEL021 and BEL-021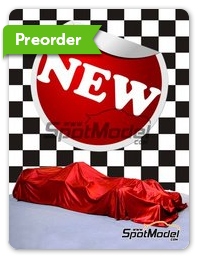 KMP Kool Models Production: Gravel conversion set 1/24 scale - Hyundai i20 WRC+ - 3D printed parts - for Belkits references BEL014, BEL-014, BEL021 and BEL-021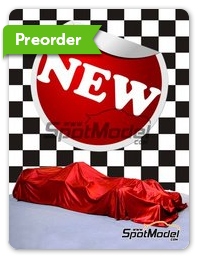 KMP Kool Models Production: Snow conversion set 1/24 scale - Hyundai i20 WRC+ - 3D printed parts - for Belkits references BEL014, BEL-014, BEL021 and BEL-021
Copyright © SpotModel