Face it guys, I am a modelahalic. I am stuck in the basement, keeping to myself, antisocial and distancing for the winter. My wife works on cardmaking next to me, so painting causes tension at times. So I am putting myself through Rehab with a very dear model to me. And will do a brief WIP of this with as Elvis sang, a little less conversation a little more action.
However to start, this kit was presented to me in I believe 1973. For Christmas. It was the ONLY gift I received, as times were tough and a $14.00 model car was pricey for my parents. But is was THE gift and I remember the excitement of opening the package to this day! Built it back then, displayed it, and for maybe 20-25 years it went to the barn, and was rediscovered and rekindled fond memories. Mario's first F1 victory, South Africa, red car, 12 cylinders, awesome design mixing cigar car with fat tires and wings. What is there not to like for a 15 year old kid that loved racing!
I gotta restore this gem.
Follow me along the path to deconstruction and reconstruction with updated skills from 45 years ago
We enter the barn on Christmas Eve, 2020, rummage around in the back room looking for a new kit to build. In the back under a stack of old papers and Scale Auto magazines, is an old Florsheim shoe box. Florsheims! And there it is.
My Uncle had country place that no one knows about...."I strip away the old debris, that hides a shining car. A brilliant red Barchetta from a better vanished time".
Wow! Jackpot!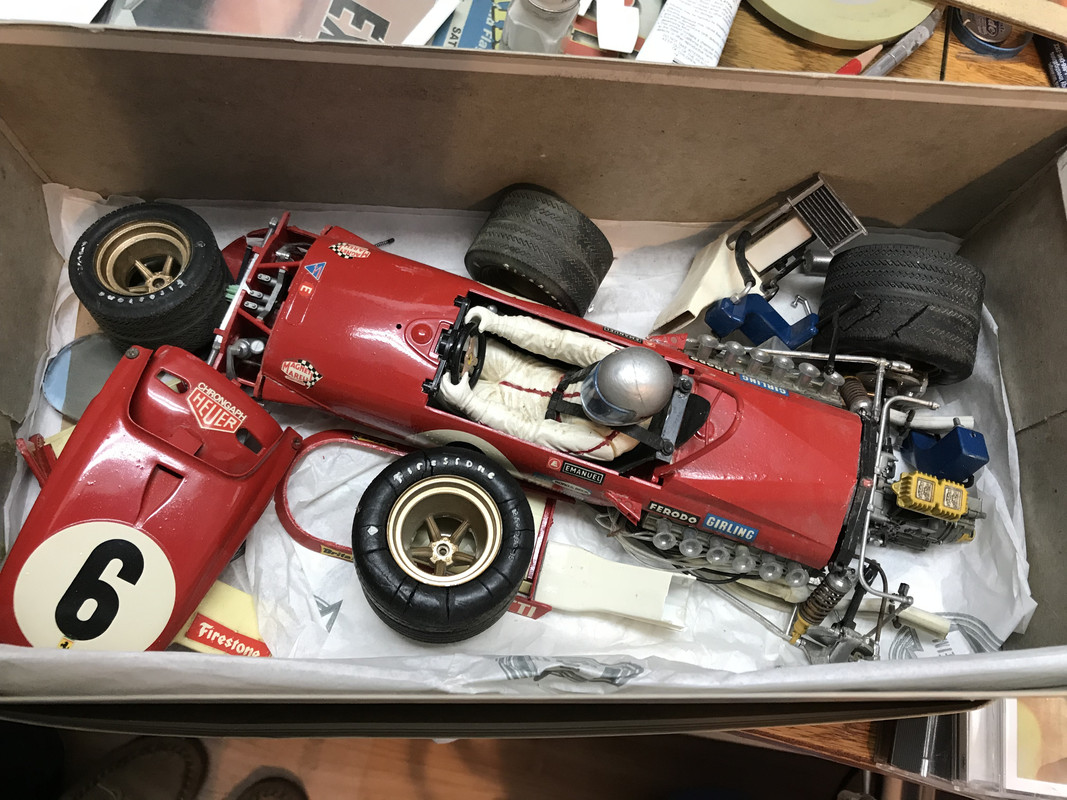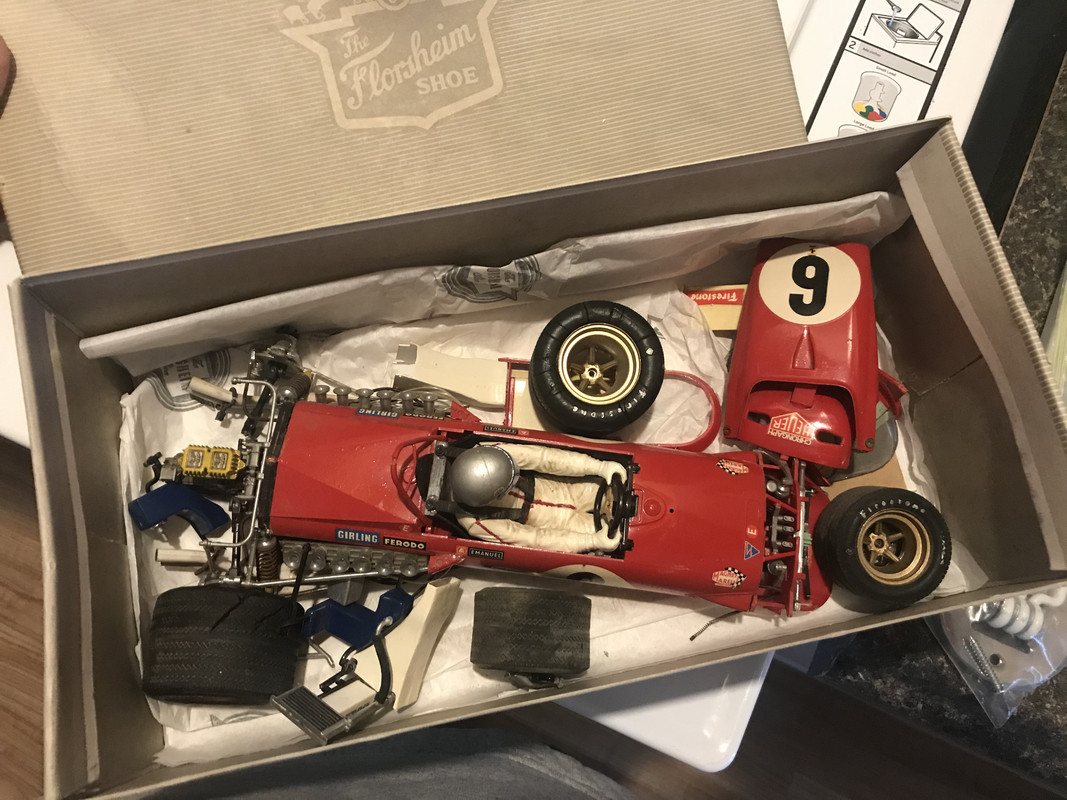 So let's tear into this, 47 years or so to the DAY!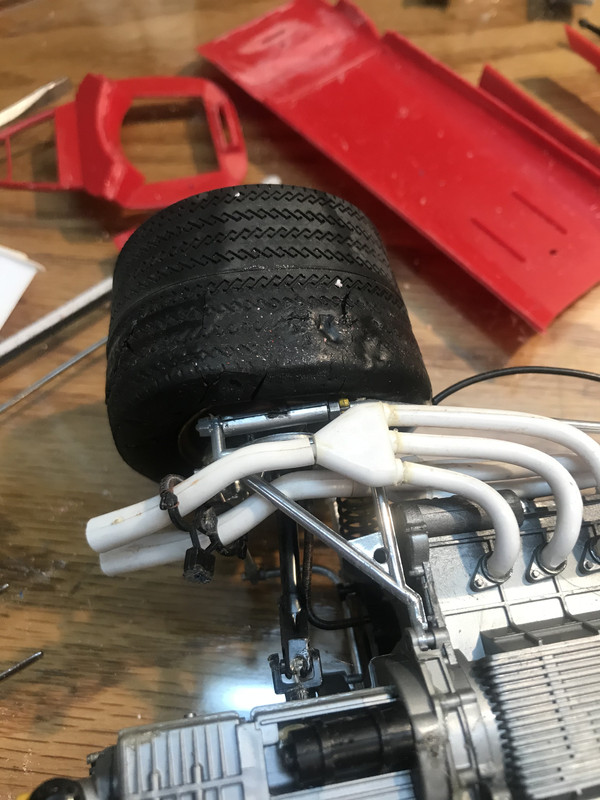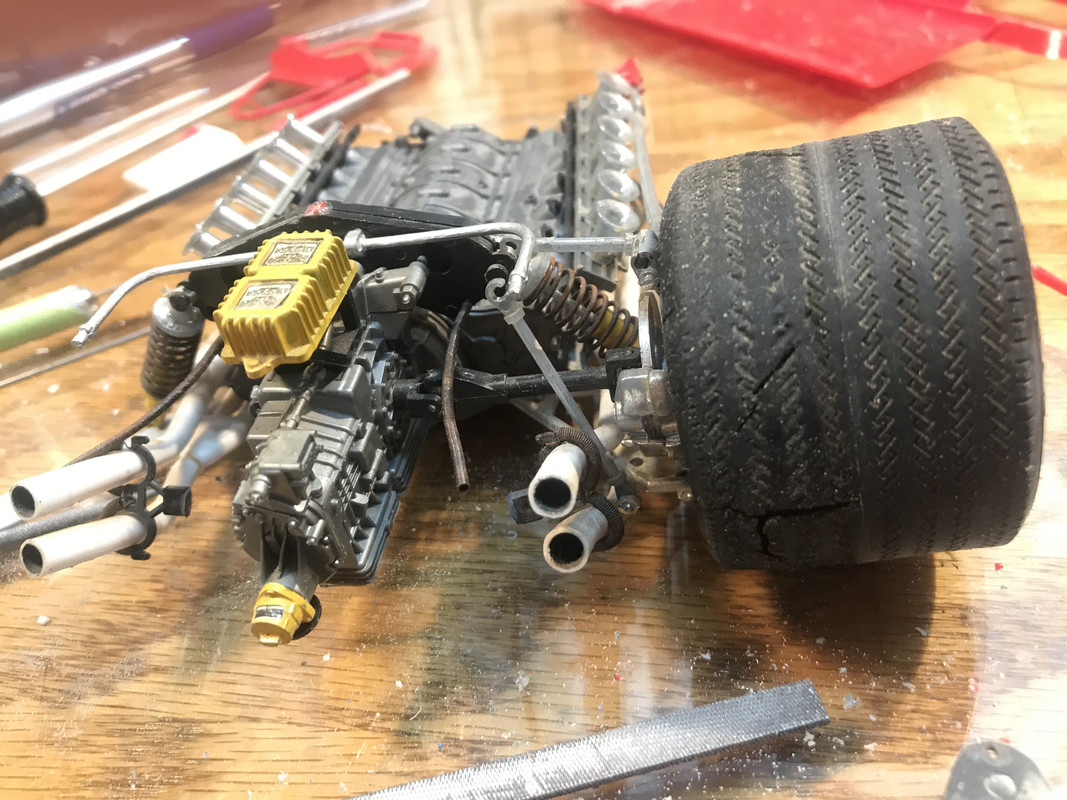 I kinda like the ageing of the engine case....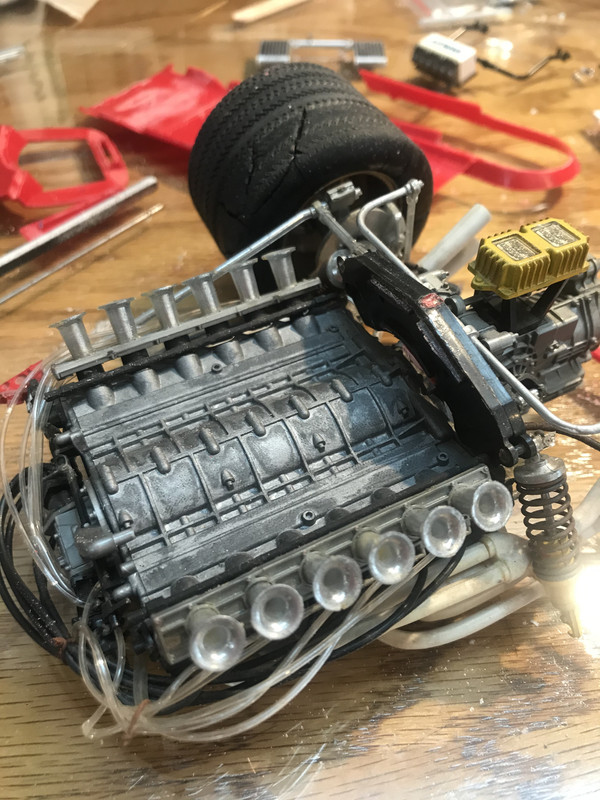 Rear tires shot, rims look nice with patina.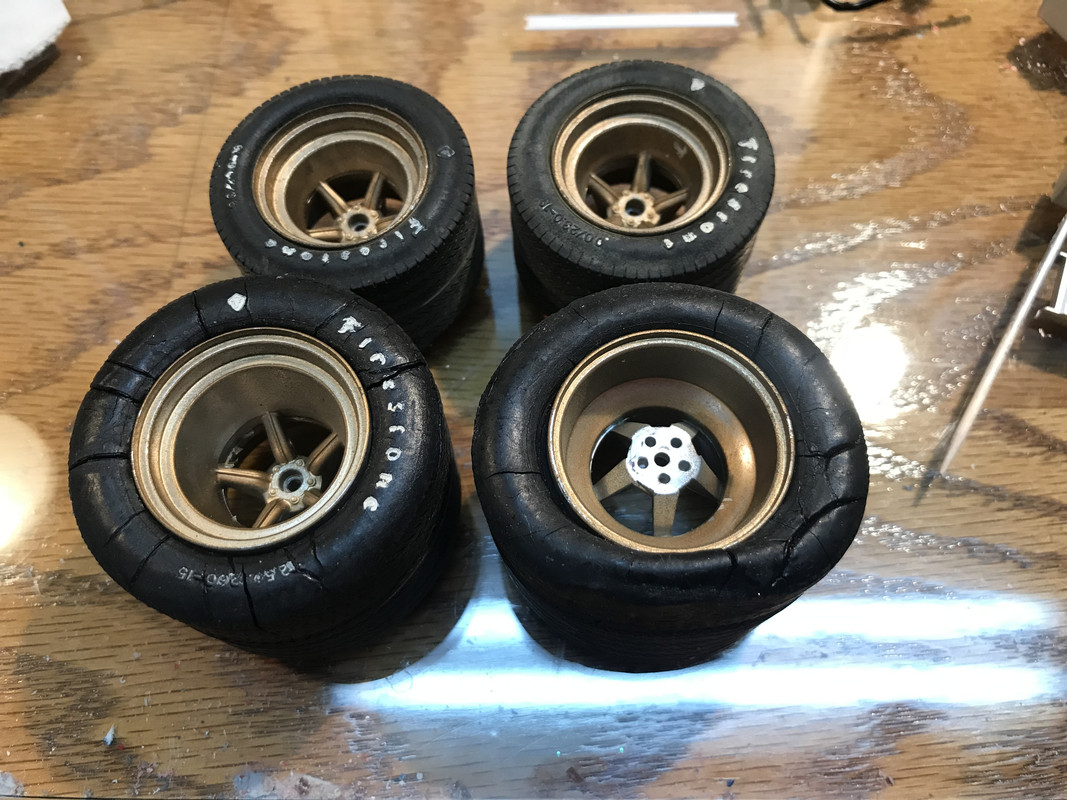 A few days of work to disassemble and assess. Strip the old paint and decals.... (used oven cleaner on old Testors red)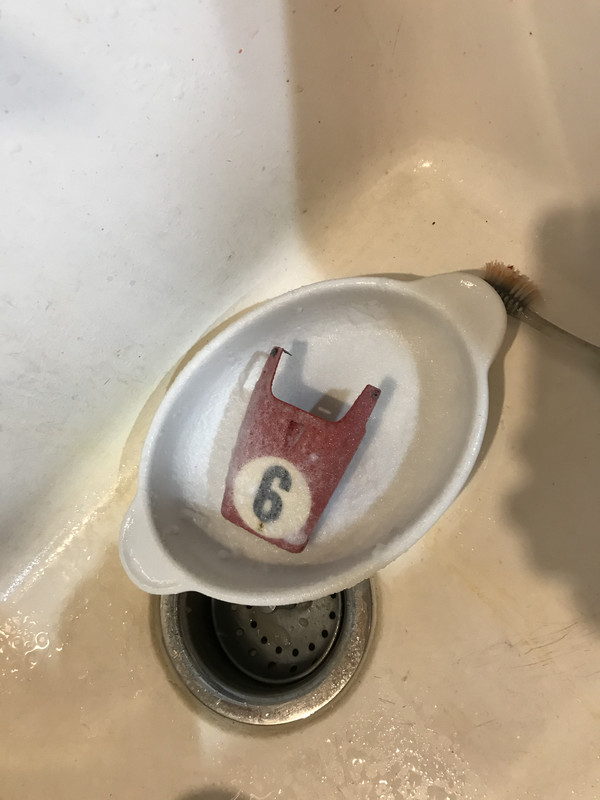 And you end up with this...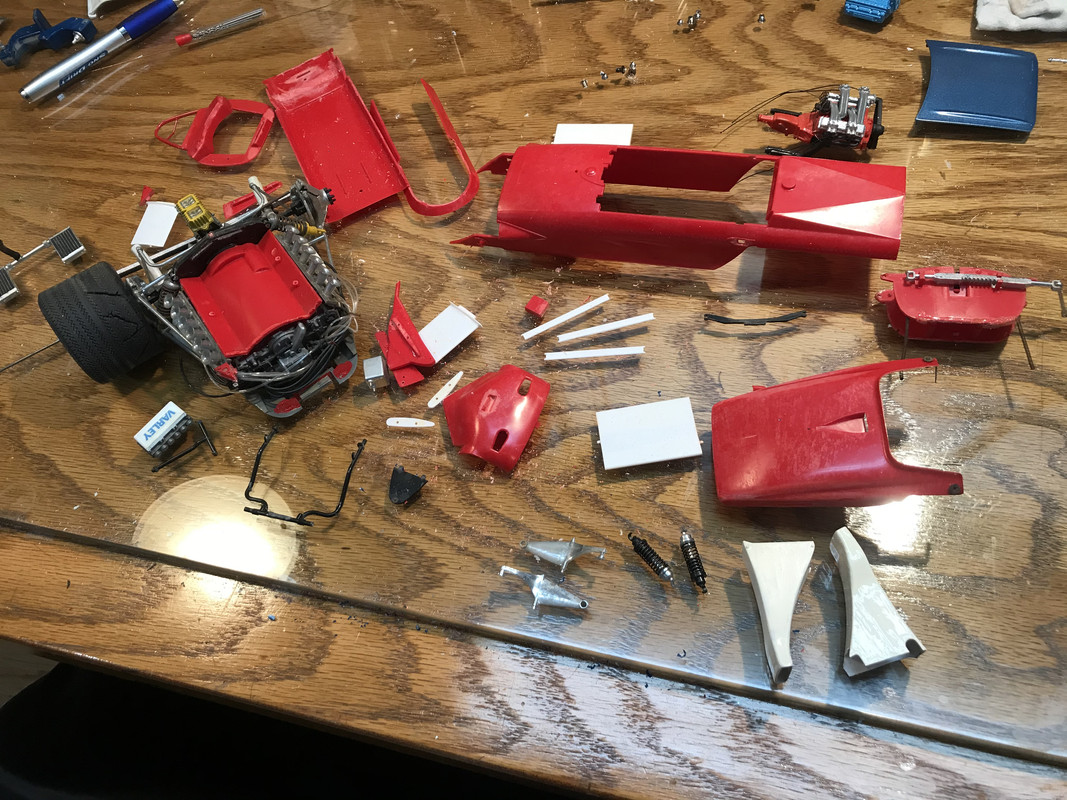 There are a lot of little broken pieces in the suspension, and some malfeasance from the original builder, who melted radius rods to "fit" around the air intakes....we can rectify that now, since this originally was a Model Rectifier Company kit.
More detail to come.