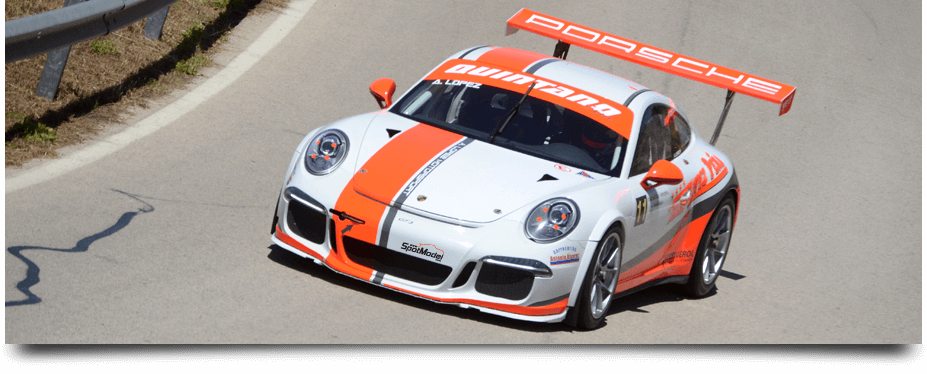 Gaaaaaaas!!!
This weekend we smelled that good gasoline again, the kind used by racing cars. That poison that smells so divinely, specially when it's served together with the smell of a burned tire and a brake disc on fire. A hill climb in a nearby road in our area (no, it was not Pikes Peak) allowed us to jump with excitement when we saw the cars go by in front of us. What do you think of this gorgeous
Porsche
? Amazing!!!
After the show and with our body already filled with adrenaline, we can dedicate the rest of the week to scale model building, changing the smell of gasoline for the smell of glue and in the breaks, enjoy browsing the novelties we have at
SpotModel
, such as
Heller's
reissue of the
Bentley Blower
in
1/24 scale
, the transkit by
USCP
of the beautiful
Renntransporter Long
, the different versions of the
MP4/8
by
MFH
in
1/43 scale
, the new
StreetBlisters
colors...
At
SpotModel
we think that it was about time that gasoline returned to our lives, right?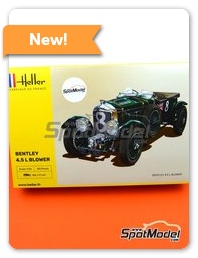 Heller: Model car kit 1/24 scale - Bentley 4.5L Blower #8 - 24 Hours Le Mans 1930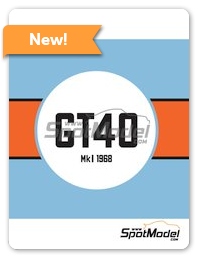 Komakai: Reference / walkaround book - Ford GT40 1968 sponsored by Gulf Racing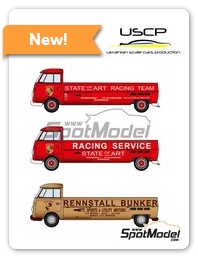 Ukrainian Scale Cars Production: Transkit 1/24 scale - Volkswagen Transporter T1 Renntransporter Long - resin parts - for Hasegawa references 21211, HC-11, HAS21211, HC11 and HSG21211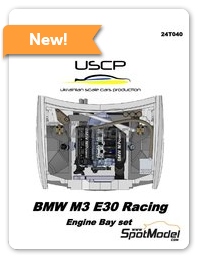 Ukrainian Scale Cars Production: Engine 1/24 scale - BMW MPower S14 M3 - resin parts - for Beemax Model Kits references B24007, Aoshima 098196, B24016 and B24019, or Nunu references PN24014, PN-24014, PN24017, PN-24017, PN24019 and PN-24019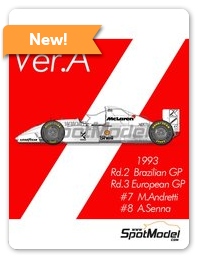 Model Factory Hiro: Model car kit 1/43 scale - McLaren Ford MP4/8 McLaren Racing Limited Team sponsored by Shell #2, 3 - Ayrton Senna da Silva (BR), Michael Andretti (US) - Brazilian Formula 1 Grand Prix, European Formula 1 Grand Prix 1993 - photo-etched parts, turned metal parts, water slide decals, white metal parts, assembly instructions and painting instructions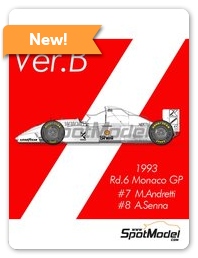 Model Factory Hiro: Model car kit 1/43 scale - McLaren Ford MP4/8 McLaren Racing Limited Team sponsored by Shell #2, 3 - Ayrton Senna da Silva (BR), Michael Andretti (US) - Monaco Formula 1 Grand Prix 1993 - photo-etched parts, turned metal parts, water slide decals, white metal parts, assembly instructions and painting instructions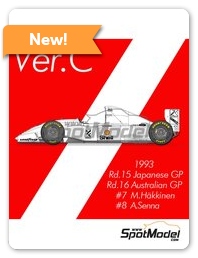 Model Factory Hiro: Model car kit 1/43 scale - McLaren Ford MP4/8 McLaren Racing Limited Team sponsored by Shell #2, 3 - Ayrton Senna da Silva (BR), Mika Häkkinen (FI) - Australian Formula 1 Grand Prix, Japanese Formula 1 Grand Prix 1993 - photo-etched parts, turned metal parts, water slide decals, white metal parts, assembly instructions and painting instructions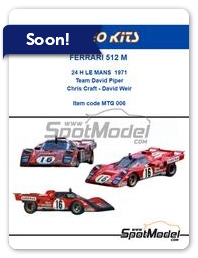 Tameo Kits: Model car kit 1/43 scale - Ferrari 512M David Piper Team #16 - Chris Craft (GB) + David Weir (GB) - 24 Hours Le Mans 1971 - metal parts, photo-etched parts, rubber parts, turned metal parts, vacuum formed parts, water slide decals, white metal parts, other materials, assembly instructions and painting instructions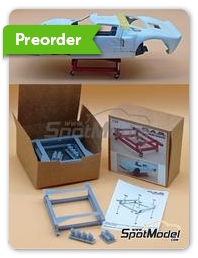 D.A.B. Models: Detail 1/24 scale - Car stand for restoration - 3D printed parts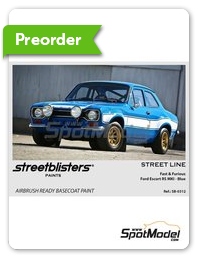 StreetBlisters: Paint for airbrush - Ford Escort Mk I Fast & Furious - 1 x 30ml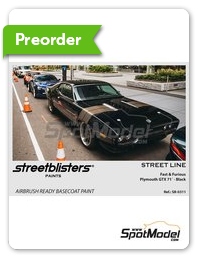 StreetBlisters: Paint for airbrush - Plymouth GTX '71 Fast & Furious Black - 1 x 30ml - for Revell reference REV07692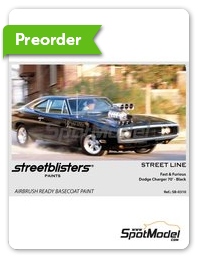 StreetBlisters: Paint for airbrush - Dodge Charger '70 Fast & Furious Black - 1 x 30ml - for Revell reference REV07693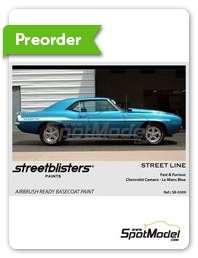 StreetBlisters: Paint for airbrush - Chevrolet Camaro Fast & Furious Le Mans Blue - 1 x 30ml - for Revell reference REV07694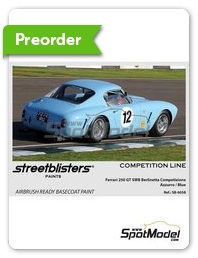 StreetBlisters: Paint for airbrush - Ferrari 250 GT SWB Berlinetta Competizione Azzurro Blue - 1 x 30ml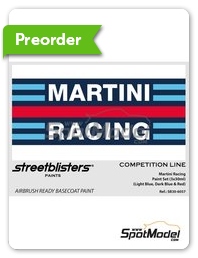 StreetBlisters: Paints set for airbrush - Martini Racing Light blue - Dark blue - Red - 3 x 30ml - for Airbrush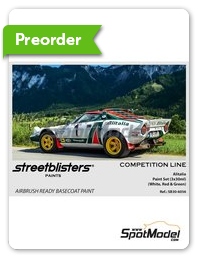 StreetBlisters: Paints set for airbrush - Alitalia White - Red - Green - 3 x 30ml - for Airbrush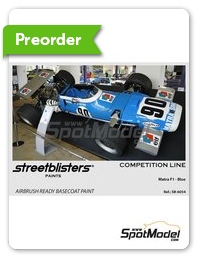 StreetBlisters: Paint for airbrush - Matra F1 Blue - 1 x 30ml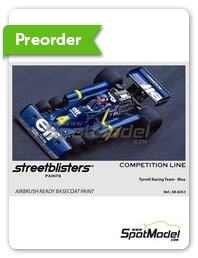 StreetBlisters: Paint for airbrush - Tyrrell Racing Team Blue - 1 x 30ml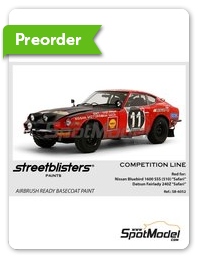 StreetBlisters: Paint for airbrush - Datsun Fairlady 240Z Safari Red - 1 x 30ml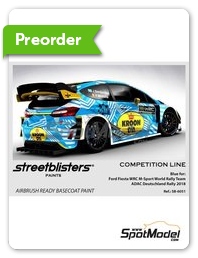 StreetBlisters: Paint for airbrush - Ford Fiesta WRC M-Sport World Rally Team ADAC Deutschland Rally 2018 Blue - 1 x 30ml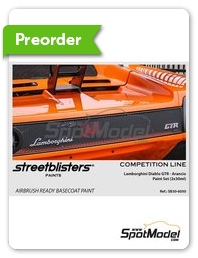 StreetBlisters: Paints set for airbrush - Lamborghini Diablo GTR Arancio - 2 x 30ml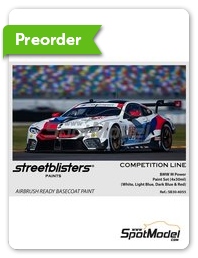 StreetBlisters: Paints set for airbrush - BMW M Power White - Light blue - Dark Blue - Red - 4 x 30ml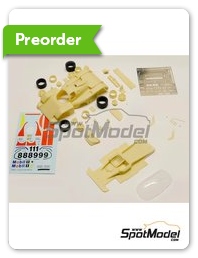 Profil24: Model car kit 1/24 scale - Aston Martin AMR1 sponsored by Mobil1 #18, 19 - Brian Redman (GB), Jack Sears (GB) - 24 Hours Le Mans 1989 - photo-etched parts, resin parts, vacuum formed parts, water slide decals, assembly instructions and painting instructions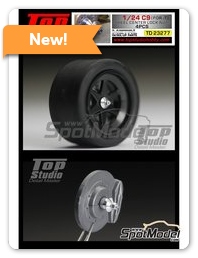 Top Studio: Nuts 1/24 scale - Mercedes Sauber C9 Wheel Center Lock Nuts - CNC metal parts - for Tamiya references TAM24091, TAM24310 and TAM24359 - 4 units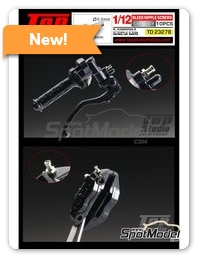 Top Studio: Detail 1/12 scale - Bleed Nipple Screws - CNC metal parts - 10 units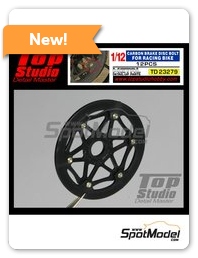 Top Studio: Detail 1/12 scale - Carbon Brake Disk Bolt for Racing Bike - CNC metal parts - 12 units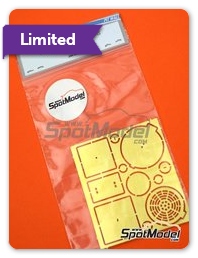 Pit Wall: Detail 1/24 scale - Maintenance hole covers - photo-etched parts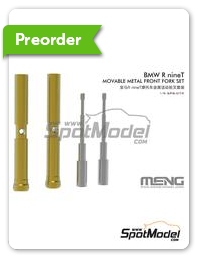 Meng Model: Front fork set 1/9 scale - BMW R nineT - turned metal parts - for Meng Model reference MT-003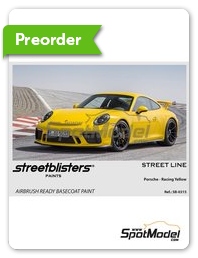 StreetBlisters: Paint for airbrush - Porsche Racing Yellow - 1 x 30ml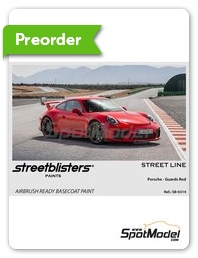 StreetBlisters: Paint for airbrush - Porsche Guards Red - 1 x 30ml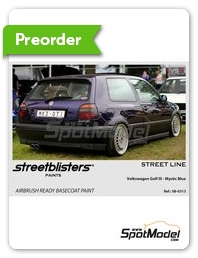 StreetBlisters: Paint for airbrush - Volkswagen Golf III Mystic Blue - 1 x 30ml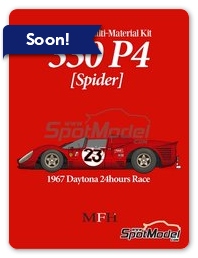 Model Factory Hiro: Model car kit 1/43 scale - Ferrari 330 P4 Spider #23 - 24 Hours of Daytona 1967 - 3D printed parts, photo-etched parts, rubber parts, turned metal parts, vacuum formed parts, water slide decals, white metal parts, assembly instructions and painting instructions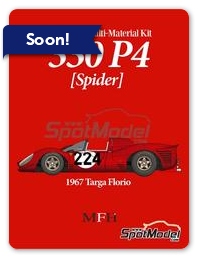 Model Factory Hiro: Model car kit 1/43 scale - Ferrari 330 P4 Spider #224 - Targa Florio 1967 - 3D printed parts, photo-etched parts, rubber parts, turned metal parts, vacuum formed parts, water slide decals, white metal parts, assembly instructions and painting instructions
Copyright © SpotModel