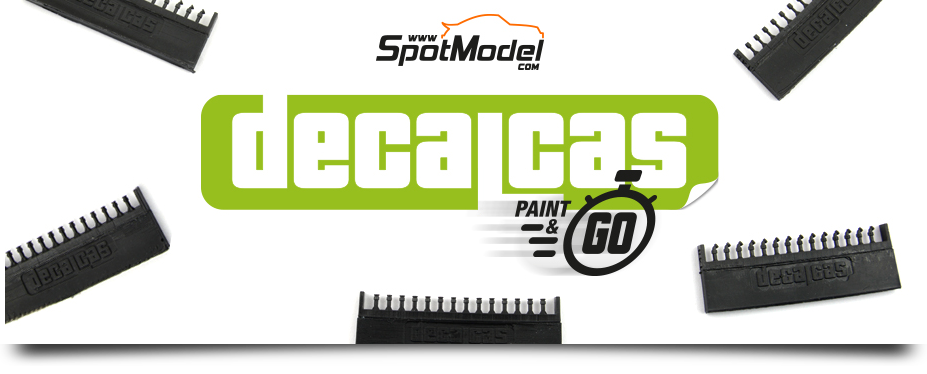 Paint and Go!
Sometimes we think that we have seen everything as far as the scale modeling scene is concerned, yet luckily new things keep appearing to surprise us. This week the award goes to
Decalcas
for the latest idea they had, really simple but at the same time very useful for all of use who seek to get down the ultimate detail, and also for those of us who seek productivity in our assemblies.
Well, these lads just released the
Paint and Go
range of parts cast in an almost completely black resin, allowing you to paint directly with your favorite metallic color without having to apply a shiny black base first.
What do you get out of it? On the one hand, you save time and work in applying the black base, and on the other (and this is what we see most interesting) you will be able to preserve all details in these absolutely tiny parts since you will be applying one less coat of paint.
You can now put half a dozen of these gorgeous fittings in your
SpotModel
shopping cart, they are quite an invention. Paint and go, we love it!!!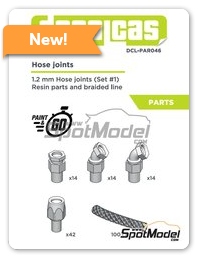 Decalcas: Hose joints 1/12 scale - 1.2mm Hose joints set 1 - resin parts and other materials - 42+14+14+14+1 units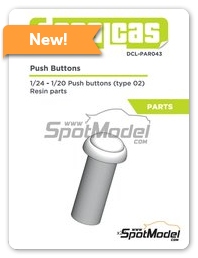 Decalcas: Detail 1/24 scale - Push button type 02 - resin parts - 28 units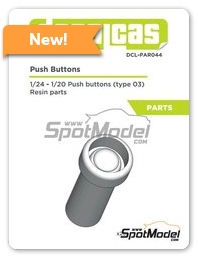 Decalcas: Detail 1/24 scale - Push button type 03 - resin parts - 28 units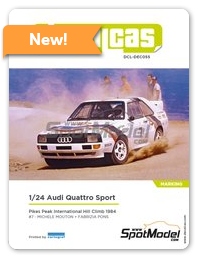 Decalcas: Marking / livery 1/24 scale - Audi Quattro Sport Audi Sport Team #7 - Michele Mouton (FR) + Fabrizia Pons (FR) - Pikes Peak Climb Hill Race 1984 - water slide decals and assembly instructions - for Nunu references NE24021, NU-E24021 and PN24023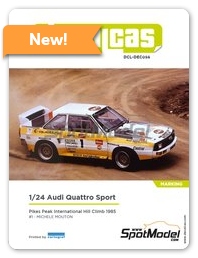 Decalcas: Marking / livery 1/24 scale - Audi Quattro Sport Audi Sport Team #1 - Michele Mouton (FR) - Pikes Peak Climb Hill Race 1985 - water slide decals and assembly instructions - for Nunu references NE24021, NU-E24021 and PN24023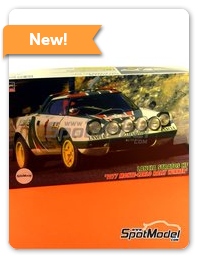 Hasegawa: Model car kit 1/24 scale - Lancia Stratos HF sponsored by Alitalia #1 - Monte Carlo Rally - Rallye Automobile de Monte-Carlo 1977 - plastic parts, rubber parts, water slide decals, assembly instructions and painting instructions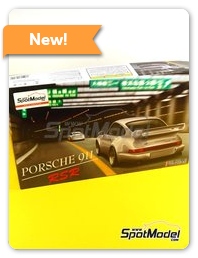 Fujimi: Model car kit 1/24 scale - Porsche 911 964 Carrera 3.8 RSR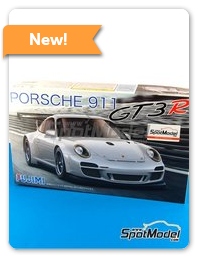 Fujimi: Model car kit 1/24 scale - Porsche 911 997 GT3R - plastic parts, rubber parts, water slide decals and assembly instructions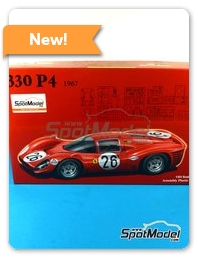 Fujimi: Model car kit 1/24 scale - Ferrari 330 P4 sponsored by SEV Marchal #26 - 24 Hours of Daytona 1967 - photo-etched parts, plastic parts, rubber parts, water slide decals, assembly instructions and painting instructions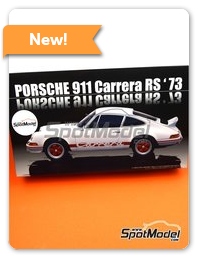 Fujimi: Model car kit 1/24 scale - Porsche 911 Carrera RS 2.7 1973 - plastic parts, rubber parts, water slide decals, assembly instructions and painting instructions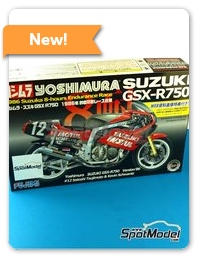 Fujimi: Model bike kit 1/12 scale - Yoshimura Suzuki GSX-R750 sponsored by Motul #12 - Kevin Schwantz (US) + Satoshi Tsujimoto (JP) - 8 Hours Suzuka Endurance Race 1986 - plastic parts, rubber parts, water slide decals, assembly instructions and painting instructions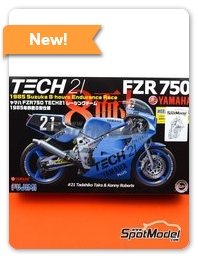 Fujimi: Model bike kit 1/12 scale - Yamaha FZR750 OW74 sponsored by Tech21 #21 - Tadahiko Taira (JP), Kenny Roberts (US) - 8 Hours Suzuka Endurance Race 1985 - metal parts, plastic parts, rubber parts, water slide decals, other materials, assembly instructions and painting instructions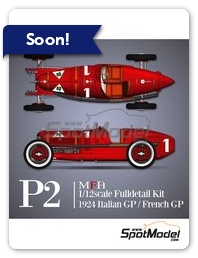 Model Factory Hiro: Model car kit 1/12 scale - Alfa Romeo P2 #1, 10 - Antonio Ascari (IT), Giuseppe Camparti (IT) - Italian Grand Prix, French Grand Prix 1924 - metal parts, photo-etched parts, resin parts, rubber parts, turned metal parts, vacuum formed parts, water slide decals, white metal parts, assembly instructions and painting instructions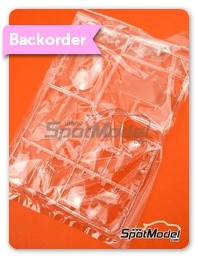 Tamiya: Spare part 1/24 scale - McLaren Senna: Sprue E - plastic parts - for Tamiya references TAM24355, T24355 and TAM24355ST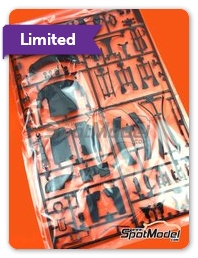 Tamiya: Spare part 1/24 scale - McLaren Senna: Sprue B - plastic parts - for Tamiya references TAM24355, T24355 and TAM24355ST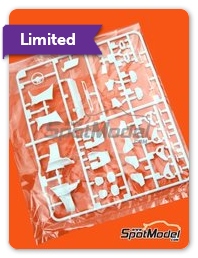 Tamiya: Spare part 1/24 scale - McLaren Senna: Sprue G - plastic parts - for Tamiya references TAM24355, T24355 and TAM24355ST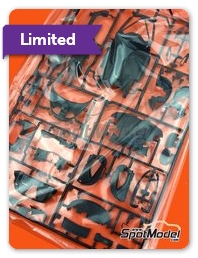 Tamiya: Spare part 1/24 scale - McLaren Senna: Sprue D - plastic parts - for Tamiya references TAM24355, T24355 and TAM24355ST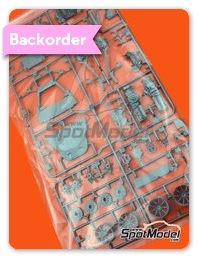 Tamiya: Spare part 1/24 scale - McLaren Senna: Sprue H and C - plastic parts - for Tamiya references TAM24355, T24355 and TAM24355ST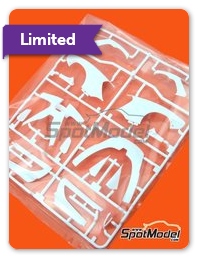 Tamiya: Spare part 1/24 scale - McLaren Senna: Sprue A - plastic parts - for Tamiya references TAM24355, T24355 and TAM24355ST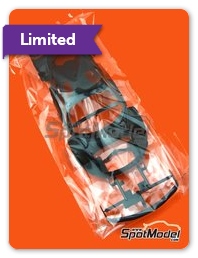 Tamiya: Spare part 1/24 scale - McLaren Senna: Sprue F - plastic parts - for Tamiya references TAM24355, T24355 and TAM24355ST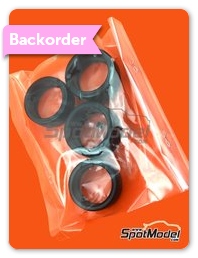 Tamiya: Spare part 1/24 scale - McLaren Senna: Tyres - rubber parts - for Tamiya references TAM24355, T24355 and TAM24355ST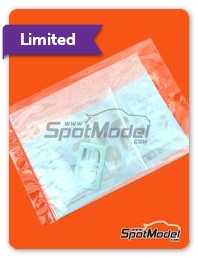 Tamiya: Spare part 1/24 scale - McLaren Senna: Decals - rubber parts - for Tamiya references TAM24355, T24355 and TAM24355ST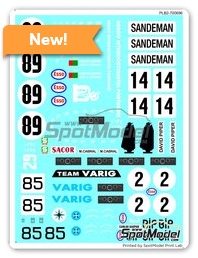 Print Lab Decals: Marking / livery 1/24 scale - Lola T280, Porsche 917K, De Tomaso, Lola T292 sponsored by Sandeman #2,14,85,89 - water slide decals manufactured with digital technology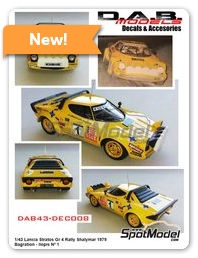 D.A.B. Models: Marking / livery 1/43 scale - Lancia Stratos Group 4 sponsored by Diez #1 - Jorge de Bagration (ES) + Nuria Llopis (ES) - Rally Shalymar 1979 - water slide decals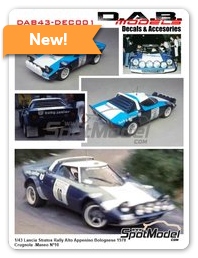 D.A.B. Models: Marking / livery 1/43 scale - Lancia Stratos Jolly Club Team sponsored by Baby Junior #10 - Crugnola (IT) + Maneo (IT) - Rally Alto Appenino Bolognese 1978 - water slide decals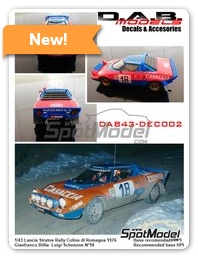 D.A.B. Models: Marking / livery 1/43 scale - Lancia Stratos sponsored by Casaccia #18 - Gianfranco Billia (IT) + Luigi Schenone (IT) - Rally Coline Di Romagna 1976 - water slide decals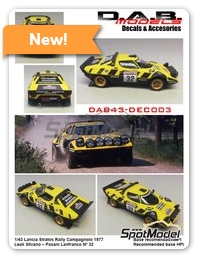 D.A.B. Models: Marking / livery 1/43 scale - Lancia Stratos #32 - Leali Silvano (IT) + Pasani Lanfranco (IT) - Rally Campagnolo 1977 - water slide decals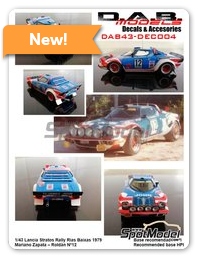 D.A.B. Models: Marking / livery 1/43 scale - Lancia Stratos #12 - Mariano Zapata (ES) + Roldán (ES) - Rally Internacional Rías Baixas 1979 - water slide decals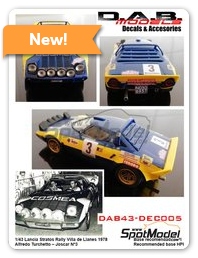 D.A.B. Models: Marking / livery 1/43 scale - Lancia Stratos #12 - Alfredo Turchetto (IT) + Joscar (IT) - Rally Villa de Llanes 1979 - water slide decals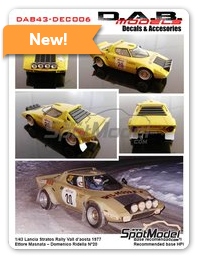 D.A.B. Models: Marking / livery 1/43 scale - Lancia Stratos #20 - Errote Masnata (IT) + Dominico Ridella (IT) - Rally della Valle d'Aosta 1977 - water slide decals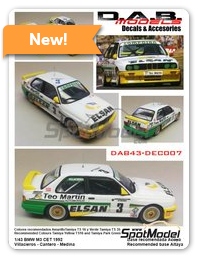 D.A.B. Models: Marking / livery 1/43 scale - BMW M3 E30 Teo Martín Automoviles Team #3 - Villacieros (ES) + Cantero (ES) + Medina (ES) - Campeonato de España de Turismos - CET 1992 - water slide decals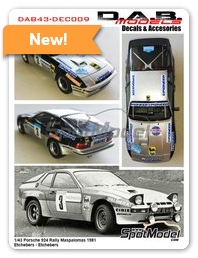 D.A.B. Models: Marking / livery 1/43 scale - Porsche 924 sponsored by Lubrifilm #3 - Marc Etchebers (FR) + Marie-Christine Etchebers - Rives (FR) - Rally Maspalomas 1981 - water slide decals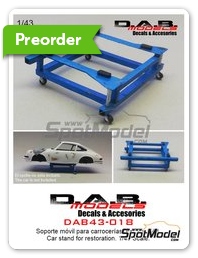 D.A.B. Models: Detail 1/43 scale - Car stand for restoration - 3D printed parts
Copyright © SpotModel