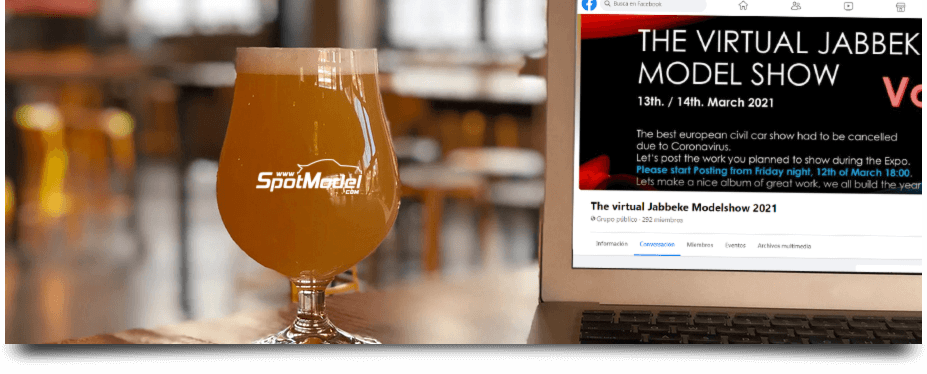 Virtual Hobby Show
In the last days we have received with great joy the information of two events that are going to take place soon in "virtual" format, since the pandemic does not allow us to carry them out in a traditional way.
On one side, we have the
Virtual Jabbeke Hobby Show
(
https://www.facebook.com/groups/781964186005635
) that will begin on Friday March 12th at 18:00 with the idea of contributing with pictures of the models that you would have presented at the "physical" event, in a similar way to what was done last year. This huge European event focuses only on cars, motorcycles and trucks, and you simply have to request to be admitted to the group to enjoy the meeting.
And on the other hand, on the same dates we have the
Painting team
(
https://www.facebook.com/groups/612272712861897
), a Spanish proposal that invites all kinds of modelers to compete.
What can you do in the month that you still have before both events? Well, very easy, you can assemble any of the new "candies" that we have for you, such as the
McLaren Senna
by
Tamiya
, the
McLaren TAG Porsche MP4/2C
by
Nunu
with its detailing set, the
Ford GT40
by either
Meng
or
Trumpeter
, or you can also just enjoy the pictures of the
Lotus Renault 97T
and the
Porsche 935/78 Moby Dick
included in the new
Komakai
books
Don't think about it twice, we'll see you in virtual worlds with
SpotModel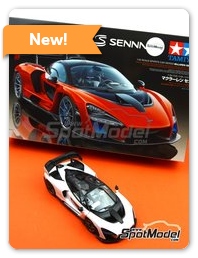 Tamiya: Model car kit 1/24 scale - McLaren Senna - plastic parts, rubber parts, water slide decals, assembly instructions and painting instructions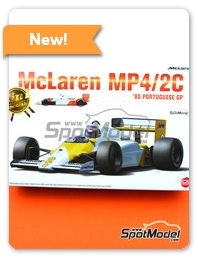 Nunu: Model car kit 1/20 scale - McLaren TAG Porsche MP4/2C McLaren Racing Limited Team sponsored by M@r!b*r* #1, 2 - Keijo Erik 'Keke' Rosberg (FI), Alain Prost (FR) - Portuguese Formula 1 Grand Prix 1986 - plastic parts, rubber parts, water slide decals, assembly instructions and does NOT include tobacco sponsor decals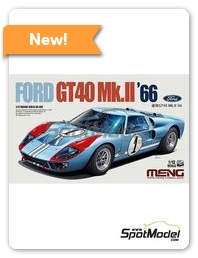 Meng Model: Model car kit 1/12 scale - Ford GT40 Mk II Shelby American Team #1 - Denis Clive 'Denny' Hulme (NZ) + Ken Miles (US) - 24 Hours Le Mans 1966 - metal parts, paint masks, photo-etched parts, plastic parts, rubber parts, turned metal parts, water slide decals, other materials, assembly instructions and painting instructions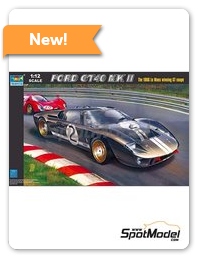 Trumpeter: Model car kit 1/12 scale - Ford GT40 Mk II Shelby American Inc. Team #1, 2 - Chris Amon (NZ) + Bruce McLaren (NZ) - 24 Hours Le Mans 1966 - metal parts, photo-etched parts, plastic parts, rubber parts, water slide decals, other materials, assembly instructions and painting instructions
Komakai: Reference / walkaround book - Porsche 935/78 Moby Dick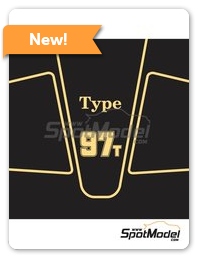 Komakai: Reference / walkaround book - Lotus Renault Type 97T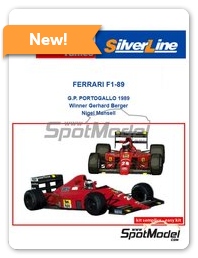 Tameo Kits: Model car kit 1/43 scale - Ferrari F1/89 #27, 28 - Gerhard Berger (AT), Nigel Ernest James Mansell (GB) - Portuguese Formula 1 Grand Prix 1989 - metal parts, photo-etched parts, rubber parts, turned metal parts, vacuum formed parts, water slide decals, white metal parts, assembly instructions, painting instructions and tobacco sponsor decals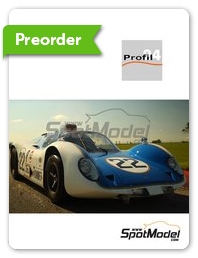 Profil24: Model car kit 1/24 scale - Howmet TX #22, 24 - 24 Hours Le Mans 1968 - photo-etched parts, resin parts, vacuum formed parts, water slide decals, assembly instructions and painting instructions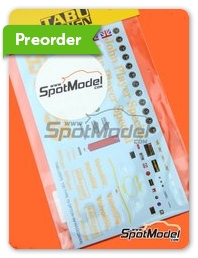 Tabu Design: Marking / livery 1/20 scale - Lotus Ford Type 79 Lotus Team sponsored by John Player Special #55 - Jean-Pierre Jarier (FR) - FIA Formula 1 World Championship 1978 - water slide decals - for Hasegawa references 23203, FG3, HAS-FG3 and 23203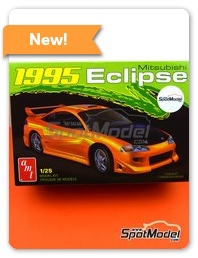 AMT: Model car kit 1/25 scale - Mitsubishi Eclipse 1995 - plastic parts, rubber parts, water slide decals, assembly instructions and painting instructions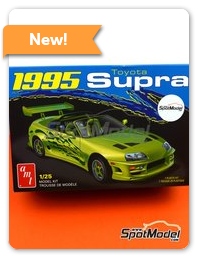 AMT: Model car kit 1/25 scale - Toyota Supra 1995 - plastic parts, rubber parts, water slide decals, assembly instructions and painting instructions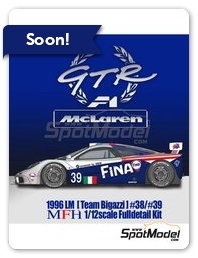 Model Factory Hiro: Model car kit 1/12 scale - Mclaren F1 GTR Bigazzi Team sponsored by Fina #38, 39 1996 - metal parts, photo-etched parts, resin parts, rubber parts, seatbelt fabric, turned metal parts, vacuum formed parts, water slide decals, white metal parts, assembly instructions and painting instructions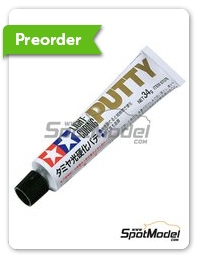 Tamiya: Putty - Putty light curing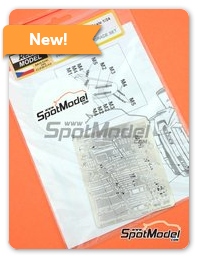 Reji Model: Detail up set 1/24 scale - BMW 3,5 CSL - photo-etched parts and assembly instructions - for Arii kit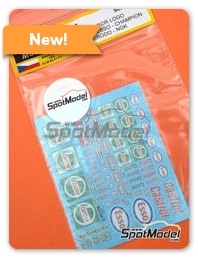 Reji Model: Logotypes 1/24 scale - Castrol, Esso, Champion, NGK, Ferodo - water slide decals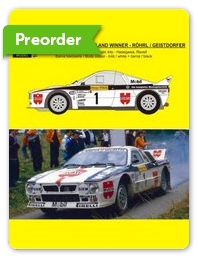 Reji Model: Marking / livery 1/24 scale - Lancia Rally 037 sponsored by Wurth #1 - Walter Röhrl (DE) - ADAC Deutschland Rally 1983 - water slide decals and placement instructions - for Hasegawa references 20264, 20277, 20299, 20399, 20414, 20447, 20485, 25030, CR-30, HACR30, 25030 and CR-30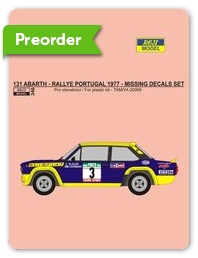 Reji Model: Marking / livery 1/20 scale - Fiat 131 Abarth Rally - Portugal Rally - Vinho do Porto 1977 - water slide decals - for Tamiya reference TAM20069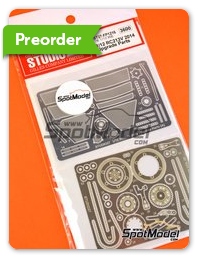 Studio27: Detail up set 1/12 scale - Honda RC213V - photo-etched parts and assembly instructions - for Tamiya reference TAM14130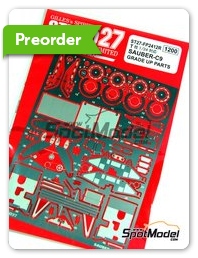 Studio27: Photo-etched parts 1/24 scale - Sauber Mercedes C9 - photo-etched parts and assembly instructions - for Tamiya references TAM24310 and TAM24359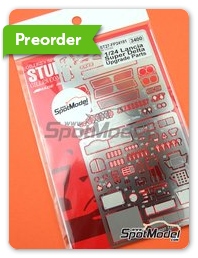 Studio27: Detail up set 1/24 scale - Lancia Super Delta HF Integrale - photo-etched parts, seatbelt fabric, white metal parts and assembly instructions - for Hasegawa references 20433, 25013, CR-13, 20457, 25015, CR-15, HACR15, 25015 and CR-15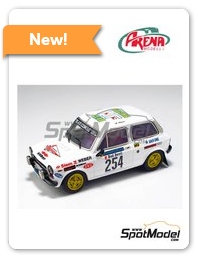 Arena Modelli: Model car kit 1/43 scale - Autobianchi A 112 sponsored by Kléber #254 - Fabrizio Tabaton (IT), Valli Piacentine (IT) - Abarth Trofeo 1978 - resin parts, rubber parts, water slide decals, white metal parts, assembly instructions and painting instructions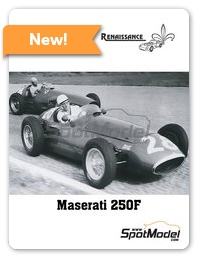 Renaissance Models: Model car kit 1/43 scale - Maserati 250F #7, 22 - Stirling Moss (GB) - Belgian Formula 1 Grand Prix, Aintree BARC200 1954 - metal parts, photo-etched parts, resin parts, rubber parts, turned metal parts, vacuum formed parts, water slide decals, white metal parts, other materials, assembly instructions and painting instructions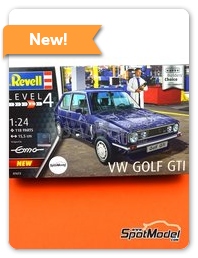 Revell: Model car kit 1/24 scale - Volkswagen Golf I GTI sponsored by Builders Choice 1986 - plastic parts, rubber parts, water slide decals, assembly instructions and painting instructions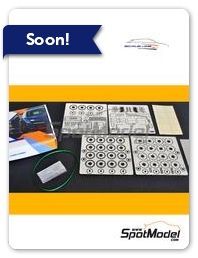 ScaleLab 24: Detail up set 1/24 scale - McLaren Senna - paint masks, photo-etched parts, seatbelt fabric and turned metal parts - for Tamiya references TAM24355, T24355 and TAM24355ST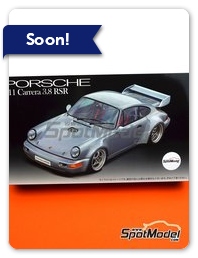 Fujimi: Model car kit 1/24 scale - Porsche 911 964 Carrera 3.8 RSR - plastic parts, rubber parts, water slide decals, assembly instructions and painting instructions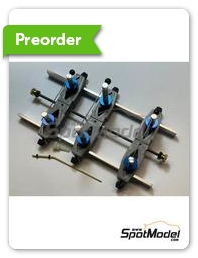 Marco Moto Design: Hobby tool 1/12 scale - MotoJig 2021 - 3D printed parts and metal parts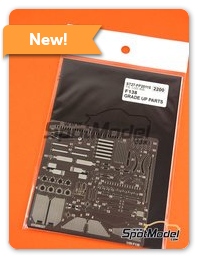 Studio27: Detail up set 1/20 scale - Ferrari F138 - photo-etched parts, seatbelt fabric and assembly instructions - for Fujimi references FJ09176, 091761 and GP-56
Tamiya: Thinner - Paint Retarder Lacquer - 1 x 40ml - for Tamiya references TAM82101, TAM82102, TAM82103, TAM82104, TAM82105, TAM82106, TAM82107, TAM82108, TAM82109, TAM82110, TAM82111, TAM82119, TAM82120, TAM82121, TAM82122, TAM82123, TAM82124, TAM82127, TAM82138, LP-38, TAM82139, LP-39, TAM82140, LP-40, TAM82141, LP-41, TAM82142, LP-42, TAM82143, LP-43, TAM82144, LP-44, TAM82145, LP-45, TAM82146, LP-46, TAM82147, LP-47, TAM82148, LP-48, TAM82149, LP-49, TAM82150, LP-50, TAM82151, LP-51, TAM82152, LP-52, TAM82153, LP-53, TAM82154, LP-54, TAM82162, LP-62, TAM82163, LP-63, TAM82165, LP-65, TAM82166, LP-66, TAM82167, LP-67, TAM82170, LP-70, TAM82172, LP-72, TAM82178, LP-78, TAM82179, LP-79, TAM82180 and LP-80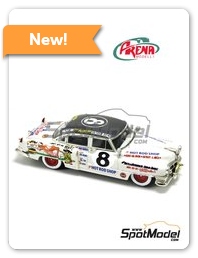 Arena Modelli: Model car kit 1/43 scale - Cadillac Serie 62 sponsored by Hot Rod Shop #8 - Carrera Panamericana 1951 - metal parts, photo-etched parts, resin parts, rubber parts, white metal parts, assembly instructions and painting instructions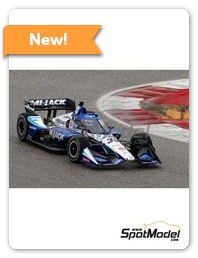 Model Factory Hiro: Model car kit 1/20 scale - Takuma Sato Honda 2020 sponsored by Mi-Jack Panasonic Honda #30 - Takuma Sato (JP) - Indy 2020 - resin parts, water slide decals, white metal parts, assembly instructions and painting instructions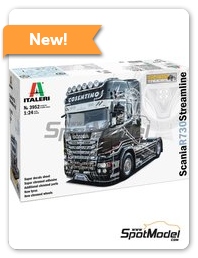 Italeri: Model truck kit 1/24 scale - Scania R730 V8 Streamline Cosentino Team - plastic parts, rubber parts, water slide decals, other materials and assembly instructions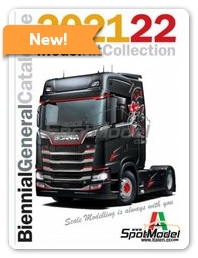 Italeri: Catalogue - General Catalogue 2021- 2022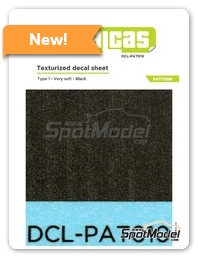 Decalcas: Decals 1/24 scale - Texturized pattern - type 1 - Very soft - water slide decals
Copyright © SpotModel