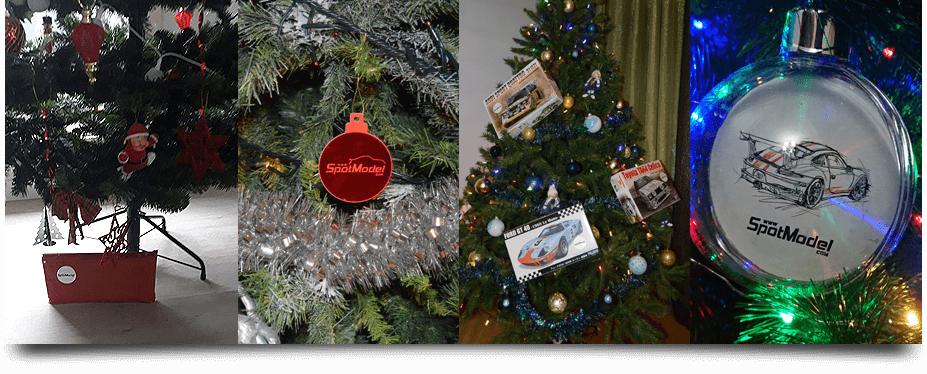 Merry Christmas!
We're really excited to see we are truly present at your Christmas! We see the pictures you share or send us, and our eyes shine with emotion... we feel that we must be doing something right.
Every day we strive so that
SpotModel
is not just another online modeling store, but we want it to be a place where we share our passion for scale models and motorsports... So, thank you very much for your love samples!!!
Since a few years ago until now, these dates tend to collapse every postal and courier service, so imagine this year, in which not only online commerce has multiplied, but also the connections with some countries are very limited (such as Australia, Italy, or UK). So we apologize for any possible issues, and take for granted we will not stop working these days and we will be right here preparing shipments and answering your questions.
All the
SpotModel
staff wishes you a
Merry (and healthy) Christmas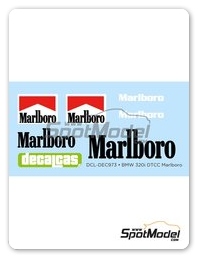 Decalcas: Marking / livery 1/24 scale - BMW 320i E46 sponsored by M@r!b*r* - water slide decals manufactured with digital technology and tobacco sponsor decals - for Nunu references PN24007 and NU-24007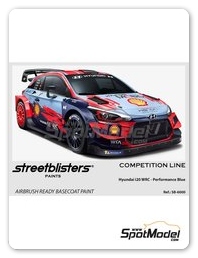 StreetBlisters: Paint for airbrush - Hyundai i20 WRC Performance Blue - 1 x 30ml - for Belkits references BEL014 and BEL-014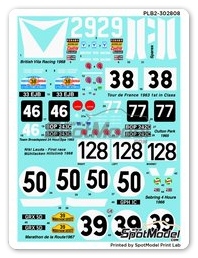 Print Lab Decals: Marking / livery 1/24 scale - Mini Cooper Competition #38, 39, 46, 50, 77, 128 - Niki Lauda (AT), Paddy Hopkirk (GB) + Henry Liddon (GB) - 24 Hours SPA Francorchamps, Tour de France Automobile - Tour de Corse, Marathon de la Route, Muhllacken Hillclimb, 4 Hours Sebring, British Vita Racing, Oulton Park 1963, 1965, 1966 and 1968 - water slide decals manufactured with digital technology - for Revell references REV07064, 80-7064 and REV07092, or Tamiya references TAM24039, TAM24048 and TAM24130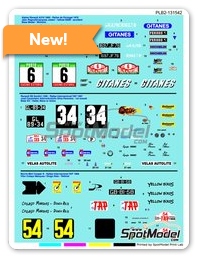 Print Lab Decals: Marking / livery 1/24 scale - Alpine Renault A310 1800 + Renault R8 Gordini + Mini Cooper S sponsored by Gitanes #6, 34, 54 - Jean Ragnotti (FR) + Jacques Jobert (FR), José Carpinteiro Albino (PT) + António Silva Pereira (PT), Vitor Colaco Marques (PT) + Diogo Reis (PT) - Portugal Rally - Vinho do Porto, TAP Rallye de Portugal 1967, 1968 and 1976 - water slide decals manufactured with digital technology - for Revell references REV07064, 80-7064 and REV07092, or Tamiya references TAM24039, TAM24048 and TAM24130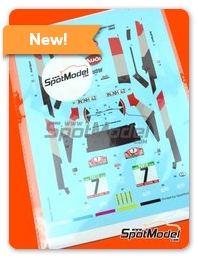 Print Lab Decals: Marking / livery 1/24 scale - Audi Quattro Rally Audi Sport Team #7 - Michele Mouton (FR) + Fabrizia Pons (IT) - Portugal Rally - Vinho do Porto 1982 - water slide decals manufactured with digital technology - for Tamiya reference TAM24036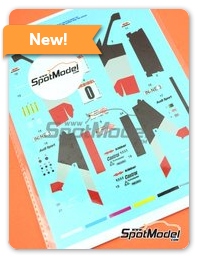 Print Lab Decals: Marking / livery 1/24 scale - Audi Quattro Rally Audi Sport Team #0 - Hannu Mikkola (FI) + Arne Hertz (SE) - Rallye do Algarve 1980 - water slide decals manufactured with digital technology - for Italeri references 3642, IT3642 and 03642, or Revell references REV07246 and 85-7246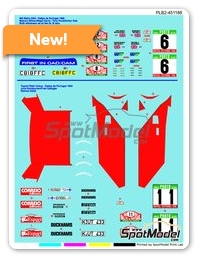 Print Lab Decals: Marking / livery 1/24 scale - Complements and substitution decals for MG Metro Rallye Portugal 1986 Toyota Celica TA64 Rallye Portugal 1984 #6, 11, 12 - Malcolm Wilson (GB) + Nigel Harris (GB), Tony Pond (GB) + Arthur Rob (GB), Juha Kankkunen (FI) + Fred Gallagher (IE) - Portugal Rally - Vinho do Porto 1984 and 1986 - water slide decals manufactured with digital technology - for Beemax Model Kits references B24011 and Aoshima 103142, or Belkits references BEL015 and BEL-015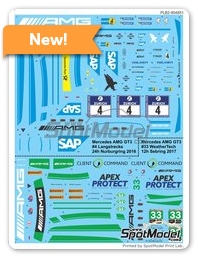 Print Lab Decals: Marking / livery 1/27 scale - Mercedes AMG GT3 Langstrecke - WeatherTech Team sponsored by SAP #4, 33 - 12 Hours Sebring, 24 Hours Nürburgring 2016 and 2017 - water slide decals manufactured with digital technology - for mini-Z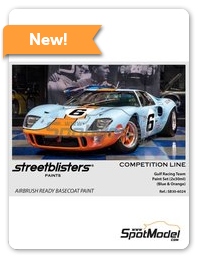 StreetBlisters: Paints set for airbrush - Ford GT40 Gulf Racing Blue and Orange - 2 x 30ml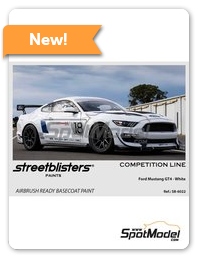 StreetBlisters: Paint for airbrush - Ford Mustang GT4 White - 1 x 30ml - for Tamiya reference TAM24354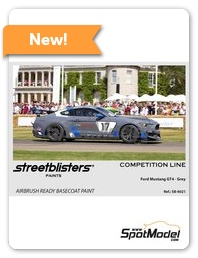 StreetBlisters: Paint for airbrush - Ford Mustang GT4 Grey - 1 x 30ml - for Tamiya reference TAM24354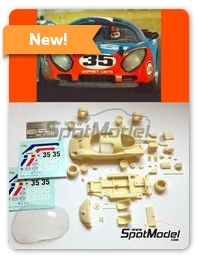 Profil24: Model car kit 1/24 scale - Moynet LM 75 sponsored by Esso #35 - Marianne Hoepfner (FR) + Michele Mouton (FR) + Christine Dacremont (FR) - 24 Hours Le Mans 1975 - metal parts, photo-etched parts, resin parts, seatbelt fabric, vacuum formed parts, water slide decals and assembly instructions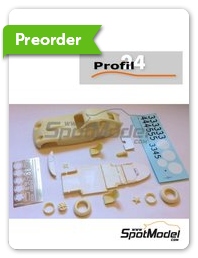 Profil24: Model car kit 1/24 scale - Bristol 450 Bristol Aeroplane Co Team #33, 34, 35 - 24 Hours Le Mans 1954 - photo-etched parts, resin parts, vacuum formed parts, water slide decals, assembly instructions and painting instructions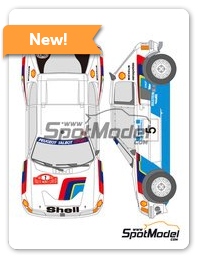 Shunko Models: Marking / livery 1/24 scale - Peugeot 205 Turbo 16 sponsored by Shell #2, 5 - Ari Vatanen (FI) + Terry Harryman (GB), Timo Salonen (FI) + Seppo Harjanne (FI) - Acropolis rally, Monte Carlo Rally - Rallye Automobile de Monte-Carlo 1985 - water slide decals and assembly instructions - for Tamiya reference TAM24054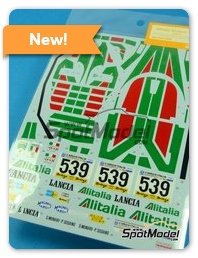 Shunko Models: Marking / livery 1/24 scale - Lancia Stratos Turbo sponsored by Alitalia #539 - Sandro Munari (IT) + Piero Sodano (IT) - Giro de Italia Rally 1977 - water slide decals and assembly instructions - for Tamiya references TAM24003 and TAM25418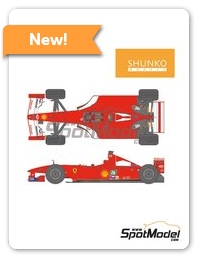 Shunko Models: Marking / livery 1/20 scale - Ferrari F1 2000 Scuderia Ferrari Team sponsored by M@r!b*r* #3, 4 - Michael Schumacher (DE), Rubens Barrichello (BR) - FIA Formula 1 World Championship 2000 - water slide decals, assembly instructions and tobacco sponsor decals - for Tamiya references TAM20048 and TAM20049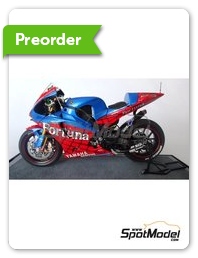 Renaissance Models: Marking / livery 1/12 scale - Yamaha YZR-M1 sponsored by Spiderman Fortuna #33 - Marco Melandri (IT) - Portuguese Moto GP Grand Prix 2004 - water slide decals and tobacco sponsor decals - for Tamiya references TAM14098 and TAM14100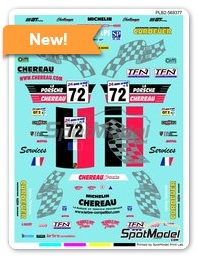 Print Lab Decals: Marking / livery 1/24 scale - Porsche 911 993 GT2 Chereau Sports Team #72 - 24 Hours Le Mans 1998 - water slide decals manufactured with digital technology - for Tamiya reference TAM24175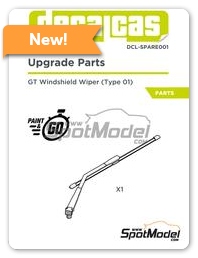 Decalcas: Spare part 1/24 scale - Wiper - resin parts - for Decalcas reference DCL-PAR003, or Revell references REV07041 and 85-4418 - 1 units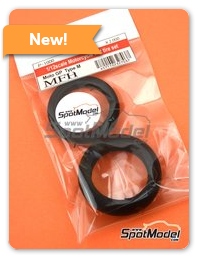 Model Factory Hiro: Tyre set 1/12 scale - Michelin MotoGP wet tyres - rubber parts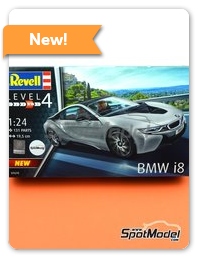 Revell: Model car kit 1/24 scale - BMW i8 - plastic parts, rubber parts, water slide decals, assembly instructions and painting instructions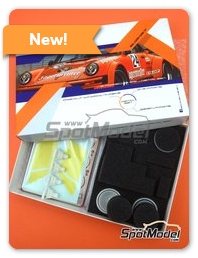 ScaleLab 24: Detail up set 1/12 scale - Porsche 934 Turbo RSR Group 4 - 3D printed parts, paint masks, photo-etched parts, resin parts and assembly instructions - for Tamiya references TAM12020, BS1220, TAM12040, TAM12055 and 12055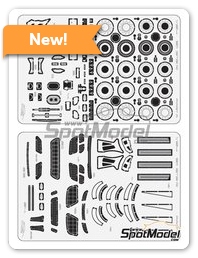 ScaleLab 24: Detail up set 1/24 scale - Porsche 911 997 GT3R - paint masks and photo-etched parts - for Fujimi references FJ123905 and RS-85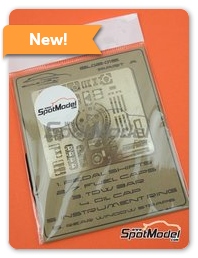 ScaleLab 24: Detail up set 1/24 scale - Porsche Carrera RSR Turbo - paint masks, photo-etched parts and seatbelt fabric - for Fujimi references FJ126487, RS-23, FUJ12648, FJ126494 and RS-99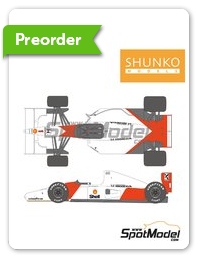 Shunko Models: Marking / livery 1/20 scale - McLaren Honda MP4/7 McLaren Racing Limited Team sponsored by M@r!b*r* #1, 2 - Ayrton Senna da Silva (BR), Gerhard Berger (AT) - FIA Formula 1 World Championship 1992 - water slide decals, assembly instructions and tobacco sponsor decals - for Tamiya references TAM20035 and TAM25171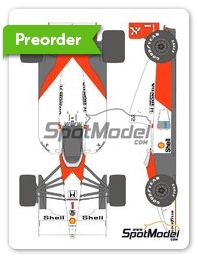 Shunko Models: Marking / livery 1/12 scale - McLaren Honda MP4/6 McLaren Racing Limited Team sponsored by M@r!b*r* #1, 2 - Ayrton Senna da Silva (BR), Gerhard Berger (AT) - FIA Formula 1 World Championship 1991 - water slide decals, assembly instructions and tobacco sponsor decals - for Tamiya references TAM12028, TAM49571 and TAM89721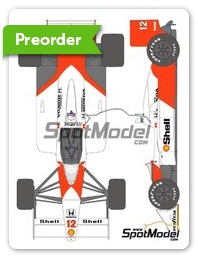 Shunko Models: Marking / livery 1/20 scale - McLaren Honda MP4/4 McLaren Racing Limited Team sponsored by M@r!b*r* #11, 12 - Ayrton Senna da Silva (BR), Alain Prost (FR), Emanuele Pirro (IT) - FIA Formula 1 World Championship 1988 - water slide decals, assembly instructions and tobacco sponsor decals - for Tamiya references TAM20022 and TAM89719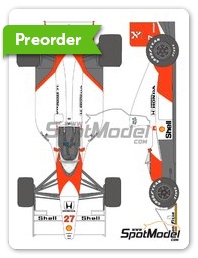 Shunko Models: Marking / livery 1/20 scale - McLaren Honda MP4/5B McLaren Racing Limited Team sponsored by M@r!b*r* #27, 28 - FIA Formula 1 World Championship 1990 - water slide decals, assembly instructions and tobacco sponsor decals - for Tamiya references TAM20026 and TAM89720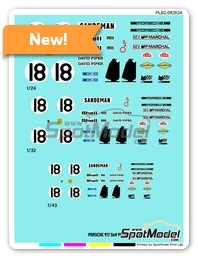 Print Lab Decals: Marking / livery 1/24 scale - Porsche 917K David Piper Team sponsored by Sandeman #18 - 24 Hours Le Mans 1970 - water slide decals manufactured with digital technology - for Fujimi references FJ12173, HR-5, FJ12188, FJ12198, FJ12199, FJ12236, FJ12261, FJ123592, FJ123882, RS-84, FJ126074, FJ126135, 12613, RS-4, FJ126142, 12614, RS-88, FJ12615, 126159, RS-92, FJ126166, 12616 and RS-98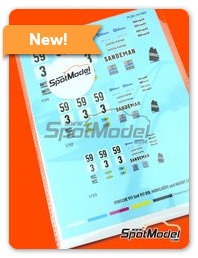 Print Lab Decals: Marking / livery 1/24 scale - Porsche 917K David Piper Team sponsored by Sandeman #3, 59 - Montlhery 500K, Magny Cours 1970 - water slide decals manufactured with digital technology - for Fujimi references FJ12173, HR-5, FJ12188, FJ12198, FJ12199, FJ12236, FJ12261, FJ123592, FJ123882, RS-84, FJ126074, FJ126135, 12613, RS-4, FJ126142, 12614, RS-88, FJ12615, 126159, RS-92, FJ126166, 12616 and RS-98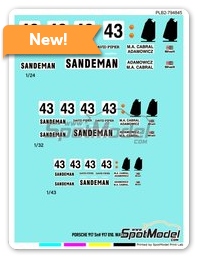 Print Lab Decals: Marking / livery 1/24 scale - Porsche 917K David Piper Team sponsored by Sandeman #43 - Tony Adamowicz (US) + Cabral Mário Araújo 'Nicha' (PT) - Watkins Glen 6 Hours 1970 - water slide decals manufactured with digital technology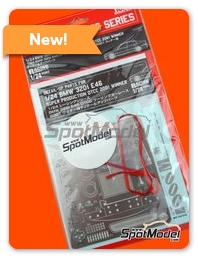 Nunu: Detail up set 1/24 scale - BMW 320i E46 - photo-etched parts, seatbelt fabric, turned metal parts, water slide decals, assembly instructions and tobacco sponsor decals - for Nunu references PN24007 and NU-24007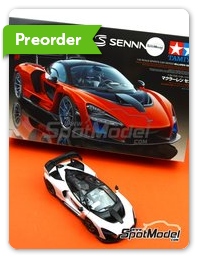 Tamiya: Model car kit 1/24 scale - McLaren Senna - plastic parts, rubber parts, water slide decals, assembly instructions and painting instructions
Copyright © SpotModel