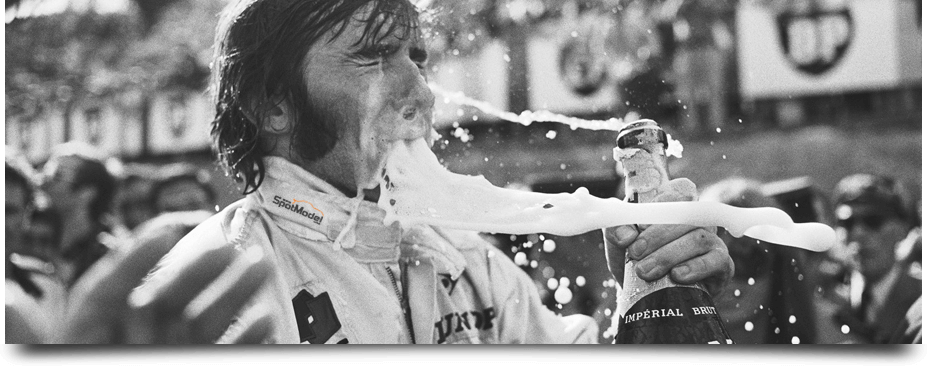 All that matters is how you play the game
We have heard many times that
"It doesn't matter whether you win or lose, it's how you play the game"
, a big truth.
Scale modeling is not a competition
, building models is a hobby where what really matters is the wish to reach to go to the end and the ability to put the tools, the liters of glue, the sandpaper and the necessary paint, on top of a steady pulse, a 57x magnification glass, a bomb-proof patience and the will to see the model finished... to achieve it.
The progression in the learning of the skills for assembling models cannot be achieved without the drive that comes from having a goal and without
constant self-evaluation
: Have I managed to do a better clearcoating? Does may paint still drip when I use the airbrush? Why is there a fingerprint always when gluing a part? Do I really always have to end up breaking the clear parts? Why is the last decal the one that wrinkles? There is no point in assembling models without being absolutely sure that you are going to end up messing it. Because you know you're going to mess it up, for sure. Don't you? That slightly crooked side mirror. That wheel that does not touch the base. That torn decal. That metallic finish that ended up too dull. That upside down number pad. That steering wheel that you forgot to glue and you realize it when it just too late...
But those "trifles" do not prevent you from
being happy
,
reaaaaaally happy
along the way, even if your model ends up at the furthest end of the showcase. But when you nail it, when you build that beauty, with all its cables, its decals, its details, with that perfect paint, with all the nuts and rivets, ... Wow, what a pleasure. What a joy. What an unstoppable need to celebrate it in style!
Let the champagne run!!!
And then you know exactly what you have to do: rush to
SpotModel
to get your next project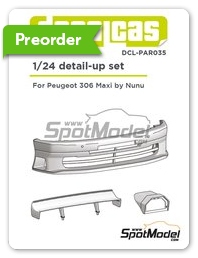 Decalcas: Transkit 1/24 scale - Peugeot 306 Maxi Evo II - 3D printed parts, resin parts and water slide decals manufactured with digital technology - for Nunu reference PN24009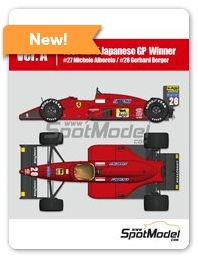 Model Factory Hiro: Model car kit 1/12 scale - Ferrari F187 - Michele Alboreto (IT), Gerhard Berger (AT) - Japanese Formula 1 Grand Prix - CNC metal parts, photo-etched parts, resin parts, rubber parts, seatbelt fabric, turned metal parts, vacuum formed parts, water slide decals, white metal parts, other materials, assembly instructions and painting instructions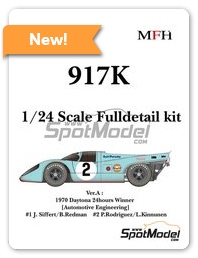 Model Factory Hiro: Model car kit 1/24 scale - Porsche 917K Automotive Engineering Team sponsored by Gulf #1, 2 - Joseph 'Jo' Siffert (CH) + Brian Redman (GB), Pedro Rodriguez (MX) + Leo Kinnunen (FI) - 24 Hours of Daytona 1970 - metal parts, photo-etched parts, resin parts, rubber parts, seatbelt fabric, turned metal parts, vacuum formed parts, water slide decals, white metal parts, other materials, assembly instructions and painting instructions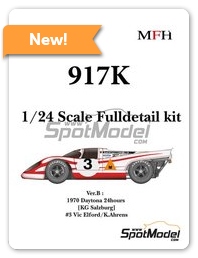 Model Factory Hiro: Model car kit 1/24 scale - Porsche 917K KG Salzburg Team #3 - Vic Elford (GB) + Kurt Ahrens (DE) - 24 Hours of Daytona 1970 - metal parts, photo-etched parts, resin parts, rubber parts, seatbelt fabric, turned metal parts, vacuum formed parts, water slide decals, white metal parts, other materials, assembly instructions and painting instructions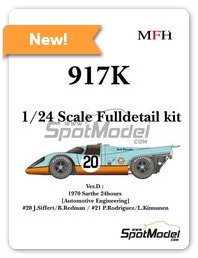 Model Factory Hiro: Model car kit 1/24 scale - Porsche 917K Automotive Engineering Team sponsored by Gulf #20, 21 - Joseph 'Jo' Siffert (CH) + Brian Redman (GB), Pedro Rodriguez (MX) + Leo Kinnunen (FI) - 24 Hours Le Mans 1970 - metal parts, photo-etched parts, resin parts, rubber parts, seatbelt fabric, turned metal parts, vacuum formed parts, water slide decals, white metal parts, other materials, assembly instructions and painting instructions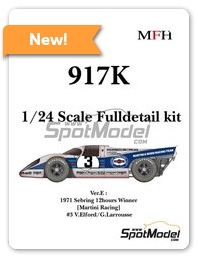 Model Factory Hiro: Model car kit 1/24 scale - Porsche 917K Martini Racing Team #3 - Vic Elford (GB) + Gérard Larrousse (FR) - 12 Hours Sebring 1971 - metal parts, photo-etched parts, resin parts, rubber parts, seatbelt fabric, turned metal parts, vacuum formed parts, water slide decals, white metal parts, other materials, assembly instructions and painting instructions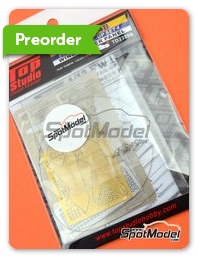 Top Studio: Detail up set 1/12 scale - Williams Renault FW14B - photo-etched parts, turned metal parts, other materials and assembly instructions - for Tamiya reference TAM12029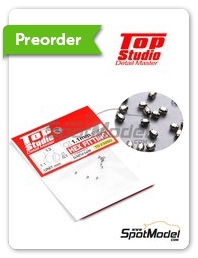 Top Studio: Nuts - Hex fitting 1.0mm for hydraulic pipes - metal parts - 10 units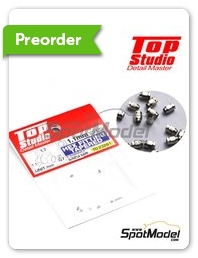 Top Studio: Nuts - Hex fitting tapered 1.1mm for hydraulic pipe joints - metal parts - 10 units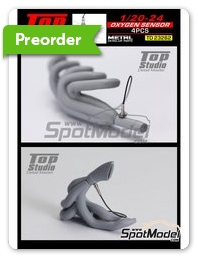 Top Studio: Detail 1/20 scale - Oxygen sensor - photo-etched parts, turned metal parts and other materials - 4 units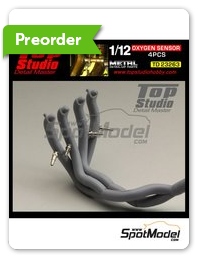 Top Studio: Detail 1/12 scale - Oxygen sensor - photo-etched parts, turned metal parts and other materials - 4 units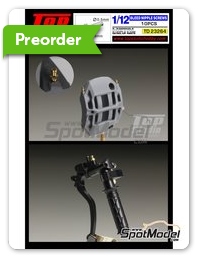 Top Studio: Detail 1/12 scale - Bleed nipple screws - CNC metal parts - 10 units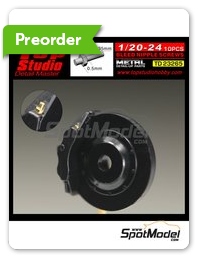 Top Studio: Detail 1/20 scale - Bleed nipple screws - CNC metal parts - 10 units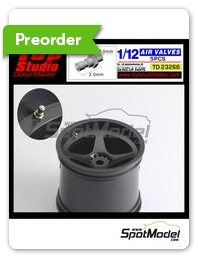 Top Studio: Air valve 1/12 scale - Air valves - CNC metal parts - 5 units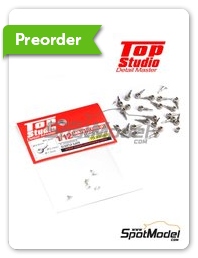 Top Studio: Detail 1/12 scale - Banjo fitting - CNC metal parts - 10 units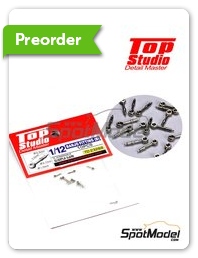 Top Studio: Detail 1/12 scale - Banjo fitting - CNC metal parts - 10 units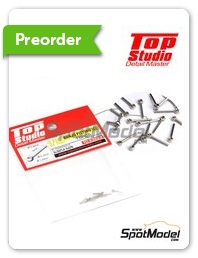 Top Studio: Detail 1/12 scale - Banjo fitting - CNC metal parts - 10 units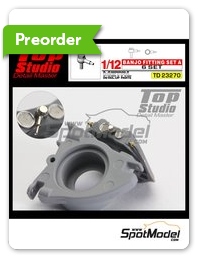 Top Studio: Detail 1/12 scale - Banjo fitting set - CNC metal parts and other materials - 6 units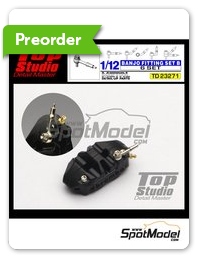 Top Studio: Detail 1/12 scale - Banjo fitting set - CNC metal parts and other materials - 6 units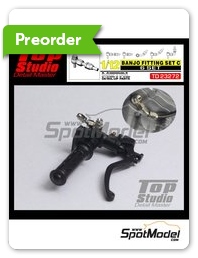 Top Studio: Detail 1/12 scale - Banjo fitting set - CNC metal parts and other materials - 6 units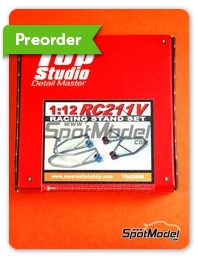 Top Studio: Racing stand 1/12 scale - Honda RC211V Racing Stand Set - for Tamiya references TAM14092, TAM14095, TAM14096, TAM14097, TAM14106, TAM14107 and TAM14108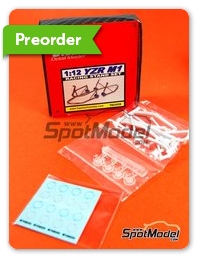 Top Studio: Racing stand 1/12 scale - Yamaha YZR-M1 Racing Stand Set - resin parts and water slide decals - for Tamiya references TAM14098, TAM14100, TAM14104, TAM14117, TAM14119 and TAM14120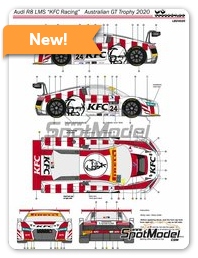 LB Production: Marking / livery 1/24 scale - Audi R8 LMS GT3 KFC Racing Team #24 - Higgon (AU) - Australian GT Trophy 2020 - water slide decals and assembly instructions - for Nunu references PN24004, NU-24004, PN24004 and NUNPN24004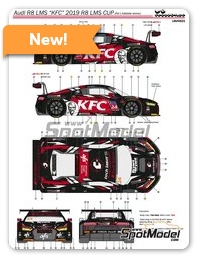 LB Production: Marking / livery 1/24 scale - Audi R8 LMS GT3 KFC Racing Team #24 - Tony Bates (AU) - Audi Sport R8 LMS Cup 2019 - water slide decals and assembly instructions - for Nunu references PN24004, NU-24004, PN24004 and NUNPN24004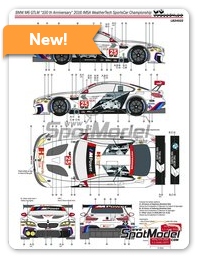 LB Production: Marking / livery 1/24 scale - BMW M6 GT3 sponsored by BMW The Next 100 Years #25 - Auberlen (US) + Dirk Werner (DE) + Augusto Farfus (BR) + Bruno Spengler (CA) - IMSA 2016 - water slide decals and assembly instructions - for Nunu references PN24001, PN24002, PN24003, PN24008 and NU-24008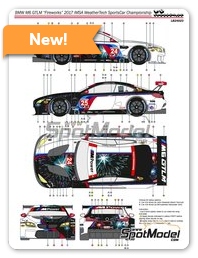 LB Production: Marking / livery 1/24 scale - BMW M6 GT3 sponsored by BMW Power #25 - Colin Edwards (US) + Martin Tomczyk (DE) + Auberlen (US) + Sims (UK) - IMSA WeatherTech SportsCar Championship 2017 - water slide decals and assembly instructions - for Nunu references PN24001, PN24002, PN24003, PN24008 and NU-24008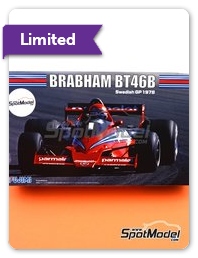 Fujimi: Model car kit 1/20 scale - Brabham BT46B Brabham Racing Organisation Team sponsored by Parmalat #1,2 - John Watson (GB) - Swedish Formula 1 Grand Prix 1978 - plastic parts, rubber parts, water slide decals, assembly instructions and painting instructions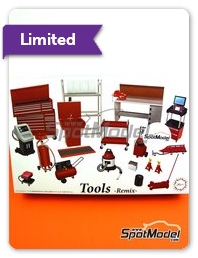 Fujimi: Model kit 1/24 scale - Tools remix - plastic parts, other materials and assembly instructions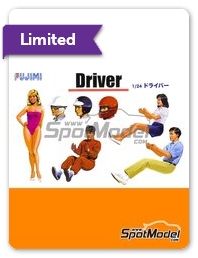 Fujimi: Figures set 1/24 scale - Drivers - plastic parts and assembly instructions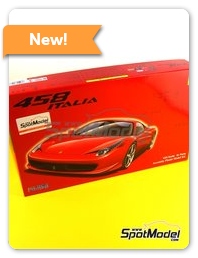 Fujimi: Model car kit 1/24 scale - Ferrari 458 Italia - plastic parts, rubber parts, water slide decals, assembly instructions and painting instructions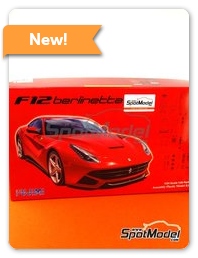 Fujimi: Model car kit 1/24 scale - Ferrari F12 Berlinetta - paint masks, photo-etched parts, plastic parts, rubber parts, water slide decals, other materials, assembly instructions and painting instructions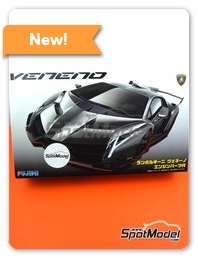 Fujimi: Model car kit 1/24 scale - Lamborghini Veneno - paint masks, plastic parts, rubber parts, water slide decals, assembly instructions and painting instructions
Copyright © SpotModel