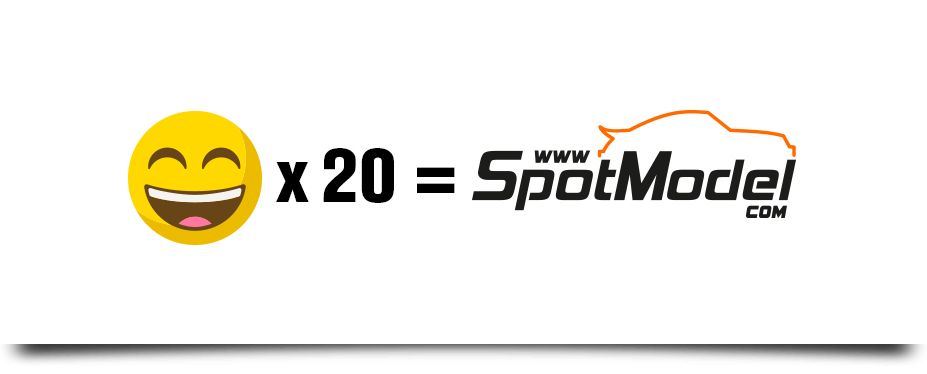 Twenty times happier
What is happiness? What is it made of? What makes us happy? And an even more complicated question: what can make us 20 times happier? Don't worry guys, at
SpotModel
we have the answer to these complex questions.
Happiness is the pleasant sensation that runs through our bodies every time we receive a parcel from
SpotModel
. That sacred moment in which we take refuge in our hobby corner to open up our box full of "candies" that takes us to a higher level and recharges us with energy for a few days; that's for sure. But now, making us 20 times happier, that is not an easy task, AT ALL.
After several studies conducted by famous universities from around the world, we can announce that we have discovered what can make us 20 times happier. A few weeks ago we announced the
SpotModel display case
to store our
1/24 scale
builds. They are fantastic, but like all display cases they take up a lot of space inside the boxes that we use to send your products, and sometimes the shipping costs are especially expensive due to the size of the parcel.
Now we have the solution: we can serve the display cases in
20 unit packs
, unassembled, inside a special box soooooooo much smaller, with a
special discount
, and thanks to the fact that the parcel we need to use for sending them is much smaller, shipping costs are equally much cheaper.
Next challenge for
SpotModel
? Make you 30 times happier... for sure we can do it!!! XD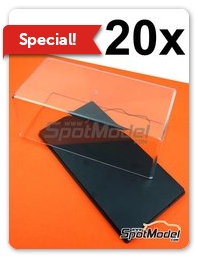 SpotModel: Display case 1/24 scale - Display case for 1/24 scale model cars - 20 units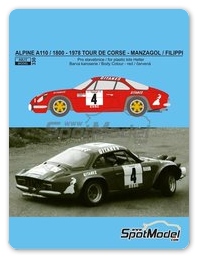 Reji Model: Marking / livery 1/24 scale - Renault Alpine A110 sponsored by Gitanes #4 - Jean-Pierre Manzagol (FR) - Tour de Corse 1978 - water slide decals and assembly instructions - for Heller references 80745, HEL80745 and HE80745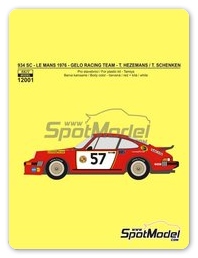 Reji Model: Marking / livery 1/12 scale - Porsche 934 Turbo RSR Gelo Racing Team sponsored by Tebernum #4 - Toine Hezemans (NL) + Timothy Theodore 'Tim' Schenken (AT) - 24 Hours Le Mans 1976 - water slide decals manufactured with digital technology and assembly instructions - for Tamiya references TAM12020, BS1220, TAM12040, TAM12055, 12055 and TAM12056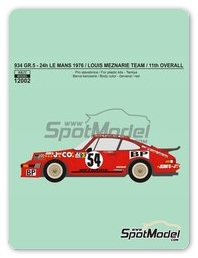 Reji Model: Marking / livery 1/12 scale - Porsche 934 Turbo RSR Group 5 Meznarie Racing Team sponsored by BP #54 - Hubert Striebig (FR) + Anne-Charlotte Verney (FR) - 24 Hours Le Mans 1976 - water slide decals manufactured with digital technology and assembly instructions - for Tamiya references TAM12020, BS1220, TAM12040, TAM12055, 12055 and TAM12056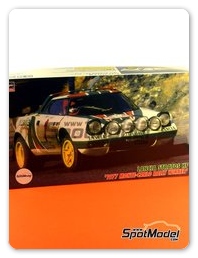 Hasegawa: Model car kit 1/24 scale - Lancia Stratos HF sponsored by Alitalia #1 - Sandro Munari (IT) + Silvio Maiga (IT) - Monte Carlo Rally - Rallye Automobile de Monte-Carlo 1977 - plastic model kit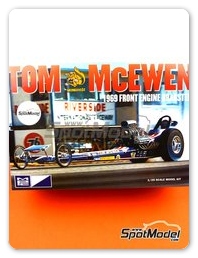 MPC: Model car kit 1/25 scale - Front Engine Dragster 2T sponsored by Tirend Activity Booster! - Tom 'Mongoose' McEwen (US) 1969 - plastic parts, rubber parts, water slide decals, assembly instructions and painting instructions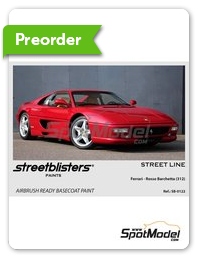 StreetBlisters: Paint for airbrush - Ferrari Rosso Barchetta 312 red - 1 x 30ml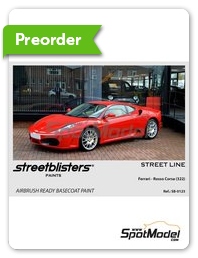 StreetBlisters: Paint for airbrush - Ferrari Rosso Corsa 322 Red - 1 x 30ml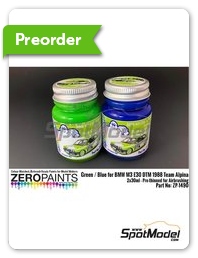 Zero Paints: Paints set for airbrush - BMW M3 E30 - DTM 1988 Team Alpina Green and Blue - 2 x 30ml - for Decalcas reference DCL-DEC007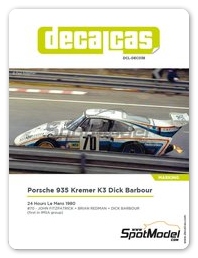 Decalcas: Marking / livery 1/24 scale - Porsche Kremer 935 K3 sponsored by Dick Barbour Racing #70 - John Fitzpatrick (GB) + Brian Redman (GB) + Dick Barbour (US) - 24 Hours Le Mans 1980 - water slide decals manufactured with digital technology and assembly instructions - for Nunu reference PN24006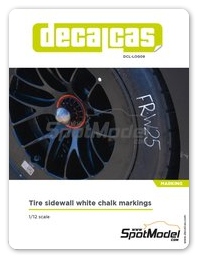 Decalcas: Logotypes 1/12 scale - Tire sidewall white chalk markings - water slide decals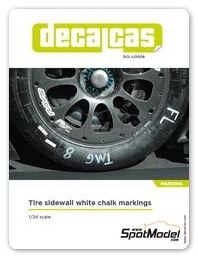 Decalcas: Logotypes 1/24 scale - Tire sidewall white chalk markings - water slide decals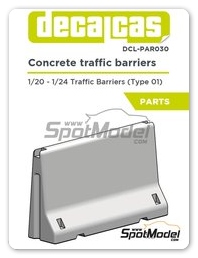 Decalcas: Detail 1/24 scale - Jersey barriers type 01 - resin parts - 2 units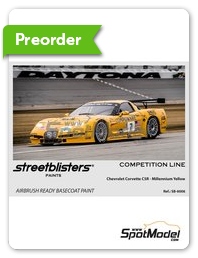 StreetBlisters: Paints set for airbrush - Chevrolet Millennium Yellow - 2 x 30ml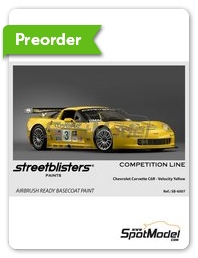 StreetBlisters: Paint for airbrush - Chevrolet Velocity Yellow Tintcoat - 1 x 30ml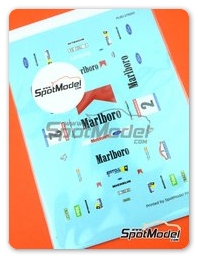 Print Lab Decals: Marking / livery 1/24 scale - Ford Sierra Cosworth sponsored by M@r!b*r* #2 - Carlos Sainz (ES) + Luis Moya (ES) - Principe de Asturias Rally 1988 - water slide decals manufactured with digital technology - for Tamiya references TAM24080 and TAM24081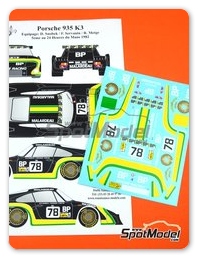 Renaissance Models: Marking / livery 1/24 scale - Porsche 935 Kremer K3 sponsored by BP Malardeau #78 - D. Snobek (FR) + F. Servanin (FR) + René Metge (FR) - 24 Hours Le Mans 1982 - water slide decals and assembly instructions - for Nunu reference PN24006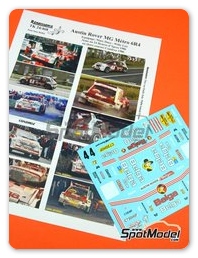 Renaissance Models: Marking / livery 1/24 scale - MG Metro 6R4 Group B sponsored by Belga #4, 7 - Marc Duez (BE) + Willy Lux (BE) - 24 Hours de Ypres Rally, Condroz Rally - Rallye du Condroz 1986 - water slide decals and assembly instructions - for Belkits references BEL015, BEL-015, BEL016 and BEL-016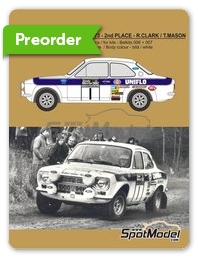 Reji Model: Marking / livery 1/24 scale - Ford Escort RS1600 Mk I sponsored by Uniflo #1 - Roger Clark (GB) + Tony Mason (GB) - Daily Mirror RAC Rally 1973 - water slide decals, assembly instructions and painting instructions - for Belkits references BEL006, BEL-006, BEL007 and BEL-007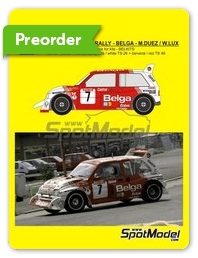 Reji Model: Marking / livery 1/24 scale - MG Metro 6R4 Belga Team #7 - Marc Duez (BE) + Willy Lux (BE) - Ypres Rally 1986 - water slide decals and assembly instructions - for Belkits references BEL015, BEL-015, BEL016 and BEL-016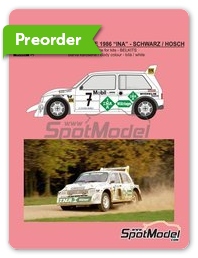 Reji Model: Marking / livery 1/24 scale - MG Metro 6R4 sponsored by Clarion #17 - Per Eklund (SE) + Dave Whittock (GB) - Lombard RAC Rally 1986 - water slide decals and assembly instructions - for Belkits references BEL015, BEL-015, BEL016 and BEL-016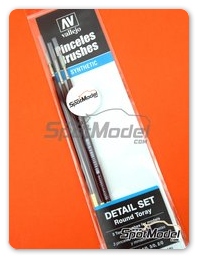 Acrylicos Vallejo: Brush - Toray synthetic brushes, sizes 4/0, 3/0 and 2/0 - 3 units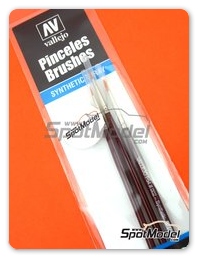 Acrylicos Vallejo: Brush - Toray synthetic brushes, sizes 0, 1 and 2 - 3 units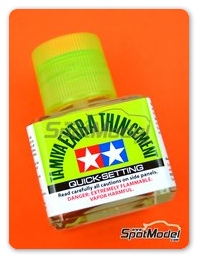 Tamiya: Glue - Extra thin cement - Quick setting - 1 x 40ml
Copyright © SpotModel