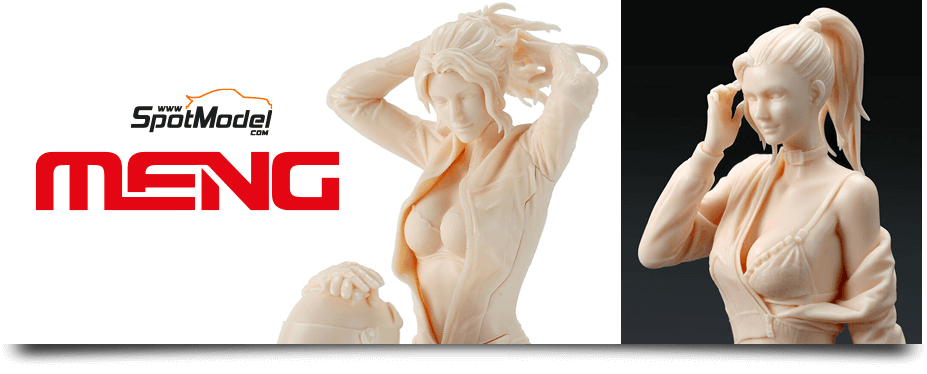 Supergirls
We civilian scale modelers are crazy about wheels, spoilers, fairings, carburettors... and that's fantastic. They drive us crazy. And don't talk to us about any other topics, please.
That said, we're going to make an exception and this time we're going to focus our attention on the
Supergirls
, because two new
biker girl
figures in
1/12 scale
by
Meng Model
have arrived and, to be honest, they are really amazing. Usually we don't add figures to our scale models but these biker supergirls make you change your mind, because they look incredible. They are made in traditional resin casting, with a nice parts list, decals to help you with the decoration, and a really nice packaging you don't see quite often. A full blown product without any doubts.
So don't hesitate, at
SpotModel
we have your
Supergirl
. Oh yeah!!!!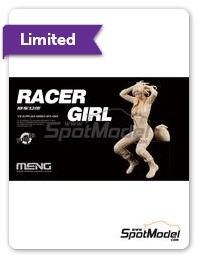 Meng Model: Figure 1/9 scale - Racer Girl - resin parts, water slide decals and assembly instructions - for Meng Model references MT-001, MT-001s, MT-002s, MT-002S, MENMT-002S, MT002S and MT-004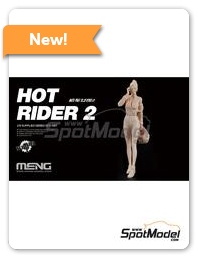 Meng Model: Figure 1/9 scale - Hot Rider 2 - resin parts, water slide decals and assembly instructions - for Meng Model references MT-001 and MT-003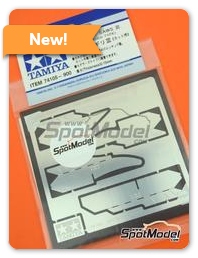 Tamiya: Hobby tool - Fine Craft Saws III (Thick-Bladed Type) 0,15mm - photo-etched parts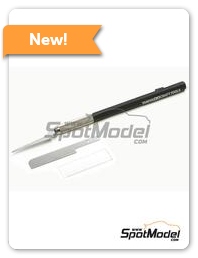 Tamiya: Hobby tool - Handy Craft Saw II - for Tamiya references TAM74094, TAM74097 and TAM74105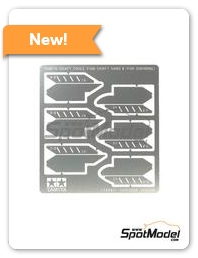 Tamiya: Hobby tool - Fine Craft Saws II (for Scribing) 0,1mm - photo-etched parts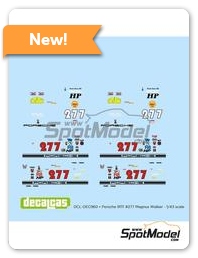 Decalcas: Marking / livery 1/43 scale - Porsche 911T #277 - Magnus Walker (GB) - water slide decals manufactured with digital technology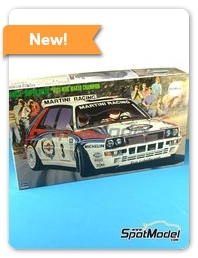 Hasegawa: Car scale model kit 1/24 scale - Lancia Super Delta HF Integrale sponsored by Martini Racing #3, 7 - Didier Auriol (FR) + Bernard Occelli (FR), Philippe Bugalski (FR) + Denis Giraudet (FR) - Tour de Corse Rallye de France 1992 - photo-etched parts, plastic parts, rubber parts, water slide decals and assembly instructions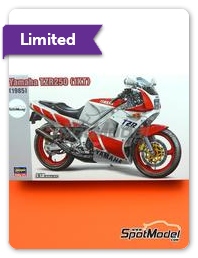 Hasegawa: Motorbike scale model kit 1/12 scale - Yamaha TZR250 1985 - metal parts, plastic parts, rubber parts, water slide decals, assembly instructions and painting instructions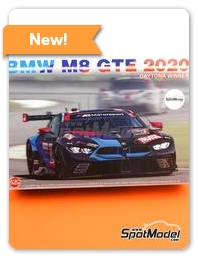 Nunu: Car scale model kit 1/24 scale - BMW M8 GTE BMW Motorsport RLL Team sponsored by Motul #24 - Augusto Farfus (BR) + Chaz Mostert (AU) + Jesse Krohn (FI) + John Edwards (US) - Rolex 24 Hours of Daytona 2020 - paint masks, plastic parts, rubber parts, water slide decals, other materials, assembly instructions and painting instructions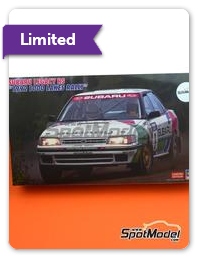 Hasegawa: Car scale model kit 1/24 scale - Subaru Legacy RS Prodrive Team sponsored by Subaru Tecnica International #6, 9 - Ari Vatanen (FI) + Bruno Berglund (SE), Colin McRae (GB) + Derek Ringer (GB) - 1000 Lakes Finland Rally 1992 - photo-etched parts, plastic parts, rubber parts, seatbelt fabric, water slide decals, other materials, assembly instructions and painting instructions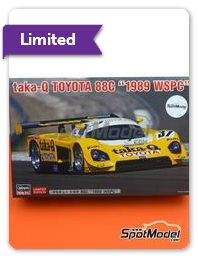 Hasegawa: Car scale model kit 1/24 scale - Toyota 88C Toyota Tom's Team sponsored by Taka-Q #37 - Johnny Dumfries (GB) + Geoff Lees (GB) - FIA World Sports-Prototype Championship (WSPC) 1989 - plastic parts, rubber parts, water slide decals, assembly instructions and painting instructions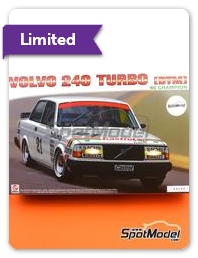 Beemax Model Kits: Car scale model kit 1/24 scale - Volvo 240 Turbo Group A IPS Motorsport Team sponsored by Castrol Nigrin #21 - Per Stureson (SE) - DTM 1985 - paint masks, plastic parts, rubber parts, water slide decals, assembly instructions and painting instructions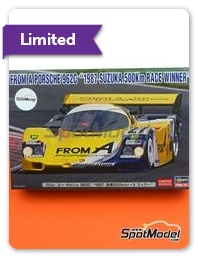 Hasegawa: Car scale model kit 1/24 scale - Porsche 962C sponsored by FromA #27 - Hideki Okada (JP) + Mike Thackwell (NZ) - All Japan Sport Prototype Championship (JSPC), Suzuka 500km 1987 - plastic parts, rubber parts, water slide decals, assembly instructions and painting instructions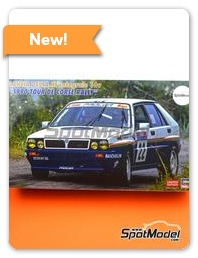 Hasegawa: Car scale model kit 1/24 scale - Lancia Delta Integrale 16V Group N Procar Team sponsored by Rothmans #22 - Patrick Bernardini (FR) + Philippe Dran-Padovani (FR) - Tour de Corse Rallye de France 1990 - metal parts, photo-etched parts, plastic parts, rubber parts, seatbelt fabric, water slide decals, other materials, assembly instructions, painting instructions and does NOT include tobacco sponsor decals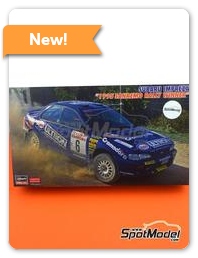 Hasegawa: Car scale model kit 1/24 scale - Subaru Impreza 555 Group A A.R.T. Engineering Team sponsored by Esso Ultron #6 - Piero Liatti (IT) + Alessandro Alessandrini (IT) - Sanremo Rally 1995 - paint masks, photo-etched parts, plastic parts, rubber parts, water slide decals, other materials, assembly instructions and painting instructions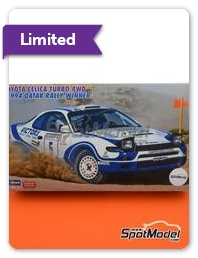 Hasegawa: Car scale model kit 1/24 scale - Toyota Celica Turbo 4WD Victory Rally Dubai Team #5 - Suhail Bin Khalifa Al-Maktoum (AE) + Ahmad Malik (AE) - Qatar International Rally 1994 - photo-etched parts, plastic parts, rubber parts, water slide decals, other materials, assembly instructions and painting instructions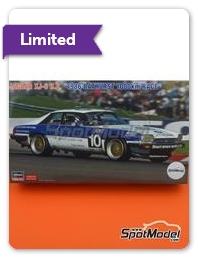 Hasegawa: Car scale model kit 1/24 scale - Jaguar XJ-S H.E. Group A John Goss Racing Team sponsored by Citibank #10 - John Goss (AU) + Bob Muir (AU) - Bathurst 1000km 1986 - photo-etched parts, plastic parts, rubber parts, seatbelt fabric, water slide decals, other materials, assembly instructions and painting instructions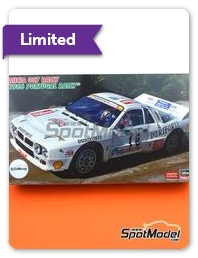 Hasegawa: Car scale model kit 1/24 scale - Lancia 037 Rally sponsored by Duriforte #18 - Carlos Bica (PT) + Candido Junior (PT) - Portugal Rally - Vinho do Porto 1986 - plastic parts, rubber parts, assembly instructions, painting instructions and does NOT include tobacco sponsor decals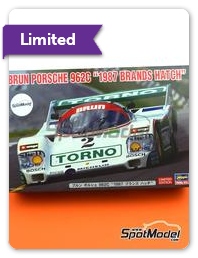 Hasegawa: Car scale model kit 1/24 scale - Porsche 962C Brun Motorsport Team sponsored by Torno #2 - Jochen Mass (DE) + Oscar Larrauri (AR) - 1000 Kms Brands Hatch 1987 - plastic parts, rubber parts, water slide decals and assembly instructions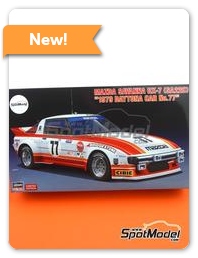 Hasegawa: Car scale model kit 1/24 scale - Mazda Savanna RX-7 (SA22C) Mazda Technical Center Team sponsored by Bridgestone #77 - Walt Bohren (US) + Amos Johnson (US) + Roger Mandeville (US) - 24 Hours of Daytona 1979 - paint masks, plastic parts, rubber parts, water slide decals, other materials and assembly instructions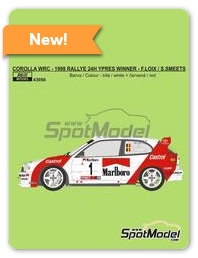 Reji Model: Decals 1/43 scale - Toyota Corolla WRC Toyota Castrol Belgium Team sponsored by M@r!b*r* #1 - Freddy Loix (BE) + Sven Smeets (BE) - Ypres Westhoek Rally 1998 - water slide decals manufactured with digital technology, assembly instructions and tobacco sponsor decals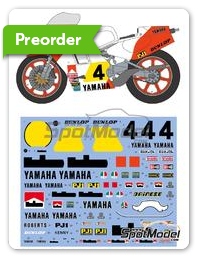 Shunko Models: Marking / livery 1/12 scale - Yamaha YZR500 OW70 & Rider sponsored by M@r!b*r* #4 - Kenny Roberts (US) - Motorcycle World Championship 1983 - water slide decals, assembly instructions and tobacco sponsor decals - for Tamiya references TAM14038, 1438, TAM14043 and TAM14075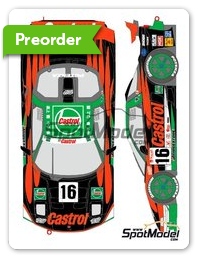 Shunko Models: Marking / livery 1/24 scale - Honda Mugen NSX sponsored by Castrol #16 - Osamu Nakako (JP) + Ryo Michigami (JP) - Japanese Grand Touring Car Championship (JGTC) 1998 - water slide decals and assembly instructions - for Tamiya reference TAM24202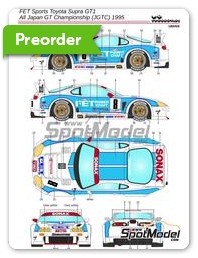 LB Production: Marking / livery 1/24 scale - Toyota Supra GT FET Racing Team sponsored by FET Power Craft #8 - Naoki Nagasaka (JP) + Kiyoshi Misaki (JP) - Japanese Grand Touring Car Championship (JGTC) 1995 - water slide decals and placement instructions - for Tamiya references TAM24163 and TAM24167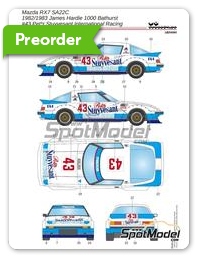 LB Production: Marking / livery 1/24 scale - Mazda Savanna RX-7 (SA22C) sponsored by Peter Stuyvesant #43 - Allan Moffat (AU) + Yoshimi Katayama (JP) - Bathurst 1000km 1982 and 1983 - water slide decals, placement instructions and painting instructions - for Hasegawa references 20587, 21146 and HC46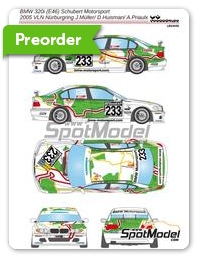 LB Production: Marking / livery 1/24 scale - BMW 320i (E46) Schubert Motorsport Team #233 - Andy Priaulx (GB) + Duncan Huisman (NL) + Jörg Müller (DE) - VLN Nürburgring Endurance Series 2005 - water slide decals and placement instructions - for Nunu references PN24033 and NU-24033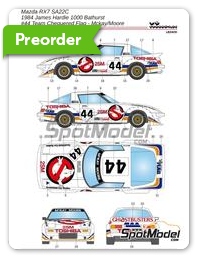 LB Production: Marking / livery 1/24 scale - Mazda Savanna RX-7 (SA22C) The Chequered Flag Team sponsored by Ghostbusters #44 - Graham Moore (AU) + Peter McKay (AU) - Bathurst 1000km 1984 - water slide decals and placement instructions - for Hasegawa references 20587, 21146 and HC46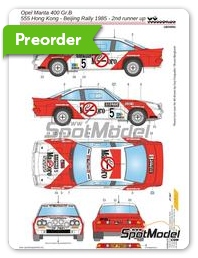 LB Production: Marking / livery 1/24 scale - Opel Manta 400 Opel Europe Team sponsored by M@r!b*r* #5, 6 - Erwin Weber (DE) + Gunter Wanger (DE), Guy Fréquelin (FR) + Bruno Berglund (SE) - Hong Kong - Beijing Rally 1985 - water slide decals, placement instructions and tobacco sponsor decals - for Belkits references BEL008, BEL-008, BEL009 and BEL-009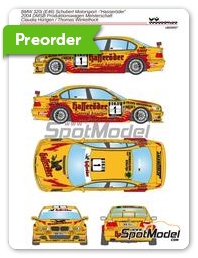 LB Production: Marking / livery 1/24 scale - BMW 320i (E46) Schubert Motorsports Team sponsored by Hasseröder #1, 2 - Claudia Hürtgen (DE), Thomas Winkelhock (DE) - Produktionswagen Meisterschaft (DMSB) - Production Car Championship 2004 - water slide decals and placement instructions - for Nunu references PN24033 and NU-24033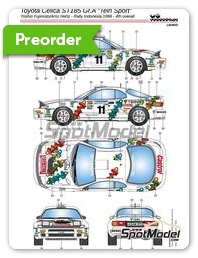 LB Production: Marking / livery 1/24 scale - Toyota Celica Turbo 4WD (ST185) sponsored by Tein Sport #11 - Yoshio Fujimoto (JP) + Arne Hertz (SE) - Indonesia Rally 1996 - water slide decals and placement instructions - for Hasegawa references 20291, 20309, 20358, hsg20358 and 20578, or Tamiya references TAM24119 and TAM24125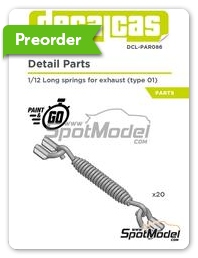 Decalcas: Detail 1/12 scale - Long springs for exhausts - Type 1 - 3D printed parts - 20 units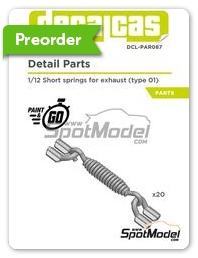 Decalcas: Detail 1/12 scale - Short springs for exhausts - Type 1 - 3D printed parts - 20 units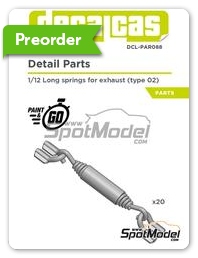 Decalcas: Detail 1/12 scale - Long springs for exhausts - Type 2 - 3D printed parts - 20 units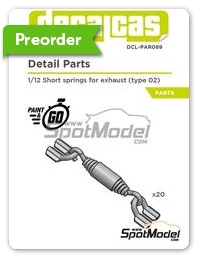 Decalcas: Detail 1/12 scale - Short springs for exhausts - Type 2 - 3D printed parts - 20 units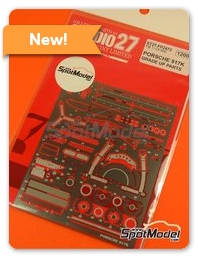 Studio27: Detail up set 1/24 scale - Porsche 917K - photo-etched parts and assembly instructions - for Fujimi references FJ12173, HR-5, FJ12188, FJ12198, FJ12199, FJ12214, FJ12236, FJ12261, FJ123592, FJ123882, RS-84, FJ126074, FJ126135, 12613, RS-4, FJ126135.OUTLET, FJ126142, 12614, RS-88, FJ12615, 126159, RS-92, FJ126166, 12616 and RS-98, or Revell reference REV07709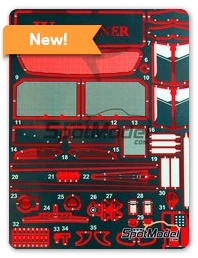 Studio27: Detail up set 1/24 scale - Mercedes CLK-GTR - photo-etched parts and assembly instructions - for Tamiya references TAM24195, TAM24201, TAM24206 and TAM24214
Copyright © SpotModel