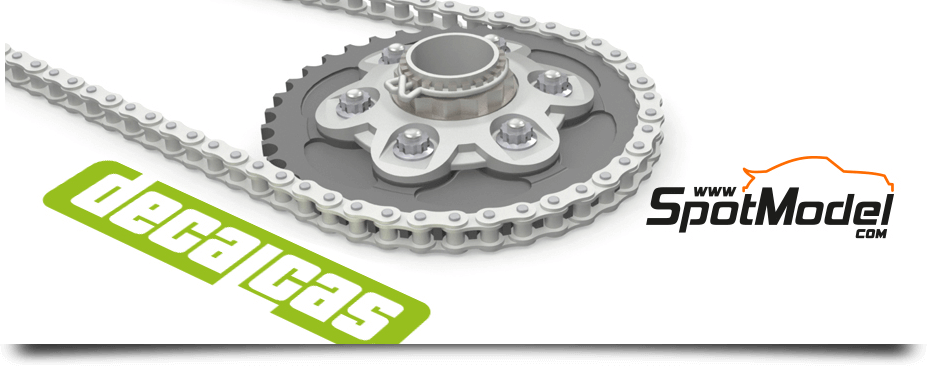 Dreams Matter
Before reading on, we recommend that you turn up the volume on your speakers and
watch this exciting video
without batting an eye
There are wonderful people who take really seriously what they do, because they know that behind every scale model there is always an actual vehicle and that if all this exists it's thanks to their dedication, to their many sleepless hours and to the limitless passion they put on each of the pieces and parts until they make that dream of perfection come true. This, taken to the extreme, means that being part of their dreams actually takes our sleep away... This is how the
Ducati
guys tell us in the video and this is how
Decalcas
felt when they decided to launch today their newest dream: the chain for the
Ducati Superleggera V4 in 1/12 scale
by
Tamiya
.
They have designed in great detail the different elements that make up the whole chain/gear assembly and all their accessory elements, and they deliver everything separately thus making the paint work a piece of cake. Let us insist, everything comes with the extreme detail with which
Decalcas
is capable of designing and manufacturing, which, as you all know, is light years away from the standards of other manufacturers. For instance, you can see the gap between the side plate and rivets in each and every chain link, and all the holes, pins and marks are detailed in both front and rear sprockets; even the fixing nut to the shaft has the clip that prevents its loss when it reaches the high turning speeds of this
Ducati
designed beast. And all this with a really simple assembly since it is designed with the scale modeler in mind
At
SpotModel
we work with passion because we know that dreams can come true.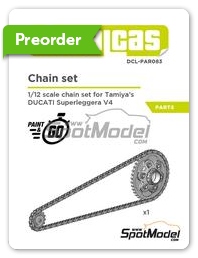 Decalcas: Chain set 1/12 scale - Ducati Superleggera V4 - 3D printed parts - for Tamiya reference TAM14140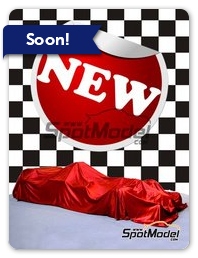 Belkits: Model car kit 1/24 scale - Hyundai i20 Coupe WRC Hyundai Shell Mobis WRT Team #8, 9, 11 - Ott Tanak (EE) + Martin Järveoja (EE), Sebastien Loeb (FR) + Daniel Elena (MC), Thierry Neuville (BE) + Nicolas Gilsoul (BE) - Monte Carlo Rally - Rallye Automobile de Monte-Carlo 2020 - photo-etched parts, plastic parts, rubber parts, seatbelt fabric, water slide decals, assembly instructions and painting instructions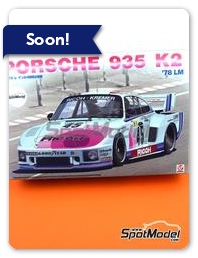 Beemax Model Kits: Model car kit 1/24 scale - Porsche 935 K2 Kremer Racing Team sponsored by Ricoh #45 - John Winter (DE) + Dieter Schornstein (DE) + Philippe Gurdjian (FR) - 24 Hours Le Mans 1978 - paint masks, plastic parts, rubber parts, water slide decals, assembly instructions and painting instructions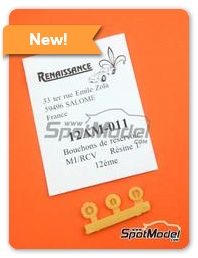 Renaissance Models: Petrol Caps 1/12 scale - Ducati Desmosedici GP3 / Yamaha YZR-M1 / Honda RCV - resin parts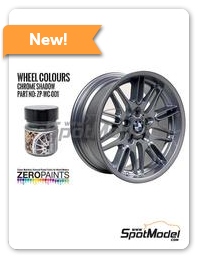 Zero Paints: Paint for airbrush - Wheel Colour Chrome Shadow - 1 x 30ml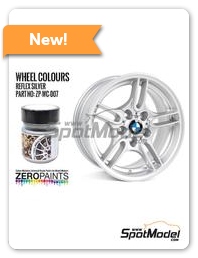 Zero Paints: Paint for airbrush - Wheel Colour Reflex Silver - 1 x 30ml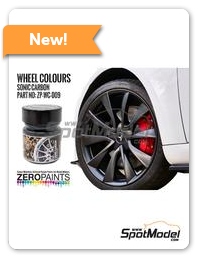 Zero Paints: Paint for airbrush - Wheel Colour Sonic Carbon - 1 x 30ml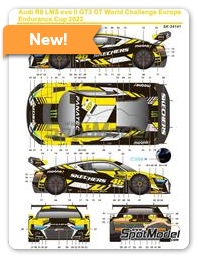 SK Decals: Marking / livery 1/24 scale - Audi R8 LMS GT3 Evo WRT Team sponsored by Skechers #46 - Valentino Rossi (IT) + Frederic Vervisch (BE) + Nico Müller (CH) - GT World Challenge Europe 2022 - water slide decals and assembly instructions - for Nunu references PN24026 and NU24026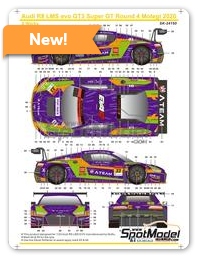 SK Decals: Marking / livery 1/24 scale - Audi R8 LMS Evo GT3 X Works Team sponsored by ATeam #33 - Shaun Thong (CN) + Takeshi Kimura (JP) - Autobacs Super GT Series 2020 - water slide decals and assembly instructions - for Nunu references PN24026 and NU24026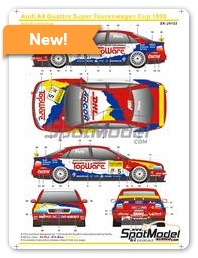 SK Decals: Marking / livery 1/24 scale - Audi A4 Quattro Abt Sportsline Team sponsored by DHL Topware #5, 18, 45 - Emanuele Pirro (IT), Christian Abt (DE), Frank Biela (DE) - German Super Tourenwagen Cup (STW - Super Tourenwagen Cup) 1998 - water slide decals and assembly instructions - for Nunu reference PN24035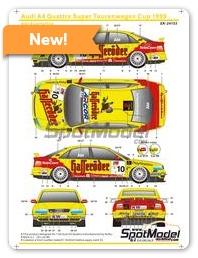 SK Decals: Marking / livery 1/24 scale - Audi A4 Quattro Abt Sportsline Team sponsored by Hasseröder #9, 10 - Kris Nissen (DE), Christian Abt (DE) - German Super Tourenwagen Cup (STW - Super Tourenwagen Cup) 1999 - water slide decals and assembly instructions - for Nunu reference PN24035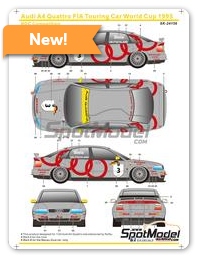 SK Decals: Marking / livery 1/24 scale - Audi A4 Quattro ROC Competition Team sponsored by Hewlett Packard #3 - Frank Biela (DE) - Guia Race of Macau, FIA Touring Car World Cup 1995 and 1996 - water slide decals and assembly instructions - for Nunu reference PN24035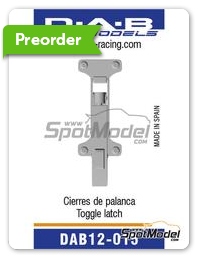 D.A.B. Models: Bonnet pins 1/12 scale - Toggle latch - 3D printed parts - 10 units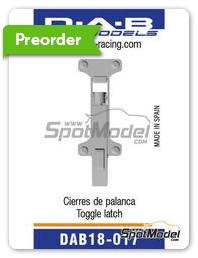 D.A.B. Models: Bonnet pins 1/18 scale - Toggle latch - 3D printed parts - 10 units
D.A.B. Models: Bonnet pins 1/24 scale - Toggle latch - 3D printed parts - 10 units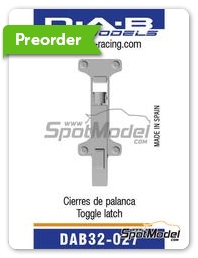 D.A.B. Models: Bonnet pins 1/32 scale - Toggle latch - 3D printed parts - 10 units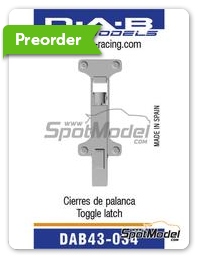 D.A.B. Models: Bonnet pins 1/43 scale - Toggle latch - 3D printed parts - 10 units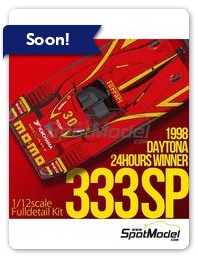 Model Factory Hiro: Model car kit 1/12 scale - Ferrari 333 SP Doran-Moretti Racing Team sponsored by Momo #30 - Gianpiero Moretti (IT) + Arie Luyendyk (NL) + Mauro Baldi (IT) + Didier Theys (BE) - 24 Hours of Daytona 1998 - metal parts, photo-etched parts, resin parts, rubber parts, turned metal parts, water slide decals, white metal parts, assembly instructions and painting instructions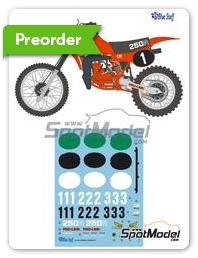 Blue Stuff: Marking / livery 1/12 scale - Honda CR250R #1, 2, 3 1981 - water slide decals, assembly instructions and painting instructions - for Tamiya references TAM14011, 14011 (3000) and 11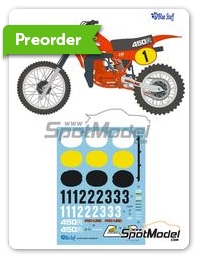 Blue Stuff: Marking / livery 1/12 scale - Honda CR450R #1, 2, 3 1981 - water slide decals, assembly instructions and painting instructions - for Tamiya reference TAM14018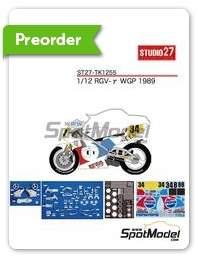 Studio27: Transkit 1/12 scale - Suzuki RGV-Gamma XR-79 sponsored by Pepsi #8, 34 - Ronald 'Ron' Haslam (GB), Kevin Schwantz (US) - Motorcycle World Championship 1989 - photo-etched parts, resin parts, water slide decals, white metal parts and assembly instructions - for Tamiya references TAM14081 and TAM14089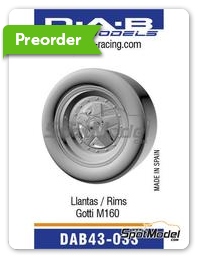 D.A.B. Models: Rims and tyres set 1/43 scale - Gotti M160 centrelock - 3D printed parts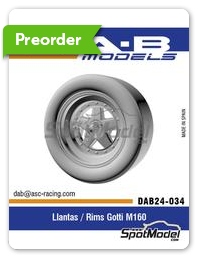 D.A.B. Models: Rims and tyres set 1/24 scale - Gotti M160 centrelock - 3D printed parts - for Tamiya references TAM24328 and TAM24334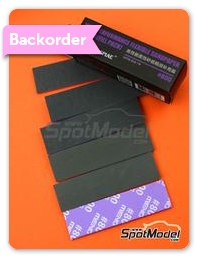 Meng Model: Sandpaper - High Performance Flexible Sandpaper- Fine Refill Pack - #800 - other materials - 6 units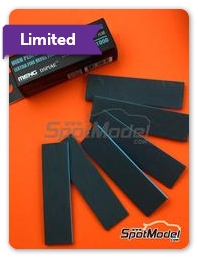 Meng Model: Sandpaper - High Performance Flexible Sandpaper- Extra Fine Refill Pack - #1000 - other materials - 6 units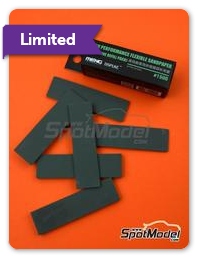 Meng Model: Sandpaper - High Performance Flexible Sandpaper- Extra Fine Refill Pack - #1500 - other materials - 6 units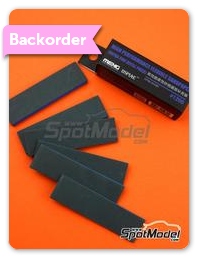 Meng Model: Sandpaper - High Performance Flexible Sandpaper- Extra Fine Refill Pack - #1200 - other materials - 6 units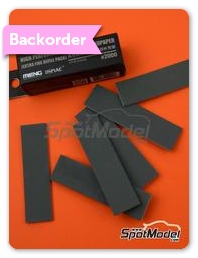 Meng Model: Sandpaper - High Performance Flexible Sandpaper- Extra Fine Refill Pack - #2000 - other materials - 6 units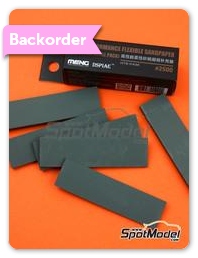 Meng Model: Sandpaper - High Performance Flexible Sandpaper- Extra Fine Refill Pack - #2500 - other materials - 6 units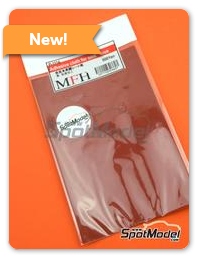 Model Factory Hiro: Material - Adhesive cloth for seat, Leather-like brick Color - other materials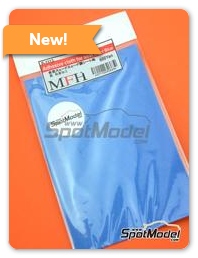 Model Factory Hiro: Material - Adhesive cloth for seat, Suede-like Light Blue 90mm x 150mm - other materials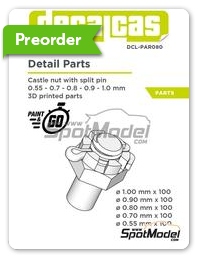 Decalcas: Nuts - Castle nut with split pin 0,55mm, 0,7mm, 0,8mm, 0,9mm, 1,0mm - 3D printed parts - 100 + 100 + 100 + 100 + 100 units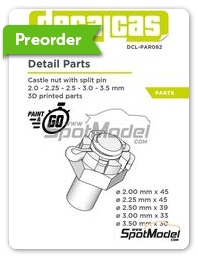 Decalcas: Nuts - Castle nut with split pin 2.0mm, 2.25mm, 2,5mm, 3,0mm, 3,5mm - 3D printed parts - 100 + 100 + 100 + 100 + 100 units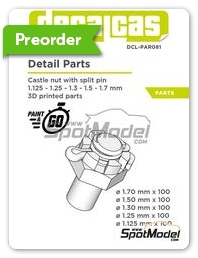 Decalcas: Nuts - Castle nut with split pin 1,125mm, 1,25mm, 1,3mm, 1,5mm, 1,70mm - 3D printed parts - 100 + 100 + 100 + 100 + 100 units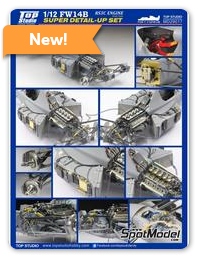 Top Studio: Detail up set 1/12 scale - Williams Renault FW14B with RS3C Engine 1991 and 1992 - CNC metal parts, photo-etched parts, resin parts, turned metal parts, water slide decals, other materials and assembly instructions - for Tamiya reference TAM12029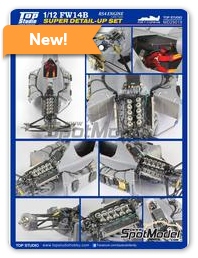 Top Studio: Detail up set 1/12 scale - Williams Renault FW14B with RS4 Engine 1992 - CNC metal parts, photo-etched parts, resin parts, turned metal parts, water slide decals, other materials and assembly instructions - for Tamiya reference TAM12029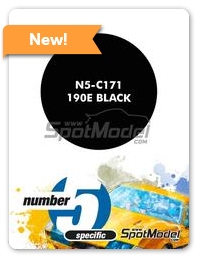 Number Five: Paint for airbrush - 190E Black - 1 x 30ml - for Italeri reference 3624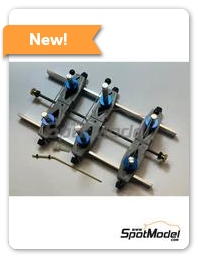 Marco Moto Design: Hobby tool 1/12 scale - MotoJig 2021 - 3D printed parts and metal parts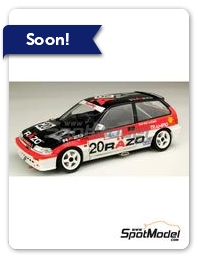 Beemax Model Kits: Model car kit 1/24 scale - Honda Civic EF3 Group A sponsored by Räzo #20 - Tomohiko Tsutsumi (JP) - Guia Race of Macau 1989 - plastic parts, rubber parts, water slide decals and assembly instructions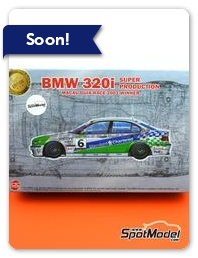 Nunu: Model car kit 1/24 scale - BMW 320i E46 Carly Motors Team sponsored by Watsons Water #6 - Duncan Huisman (NL) - Guia Race of Macau 2001 - plastic parts, rubber parts, water slide decals, assembly instructions and painting instructions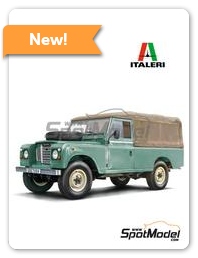 Italeri: Model car kit 1/24 scale - Land Rover 4 wheel drive 109'' LWB - plastic parts, rubber parts, water slide decals and assembly instructions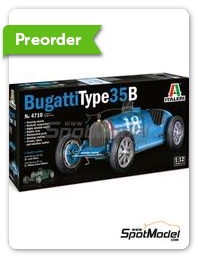 Italeri: Model car kit 1/12 scale - Bugatti Type 35B #12, 18 - William Grover-Williams (FR), Louis Chiron (FR) - Monaco Grand Prix 1929 and 1930 - metal parts, photo-etched parts, plastic parts, rubber parts, water slide decals, other materials, assembly instructions and painting instructions
Copyright © SpotModel