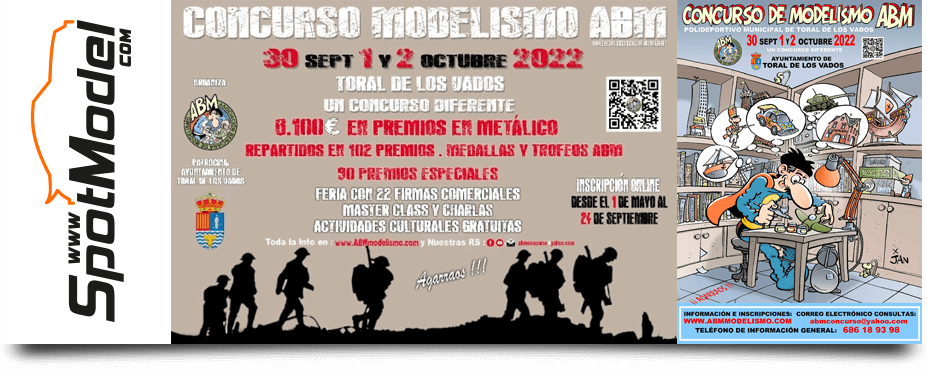 ABM 2022
There is just one month to go until the
ABM 2022 Scale Modeling Contest
will be held at Toral de los Vados, a small town in northern Spain where the
Berciana Scale Modeling Association
has been preparing for months a contest that promises to be different from what we are all used to see.
And yes lads, of course
SpotModel
collaborates with the organization of the event. There we will be helping as much as possible, holding a colloquium on some subject about the world of civil scale modeling, and lending a hand in the not easy task of judging the contending models. You have more details
on the organization's Facebook page (https://www.facebook.com/asociacionbercianademodelismo)
and it promises to be very interesting
Don't know whether to go to the contest? Surely you have something worth to be shown, a lot to talk about and want to have a good time with your
SpotModel
friends.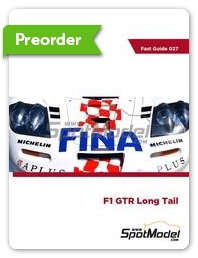 Komakai: Reference / walkaround book - McLaren F1 GTR Long Tail BMW Motorsport Team sponsored by Fina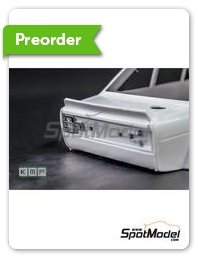 KMP Kool Models Production: Lights 1/24 scale - Fiat 131 Abarth Rally - 3D printed parts - for Italeri references 3621, ITA3621, 3621S, 3662, ITA3662, 3662S and 3690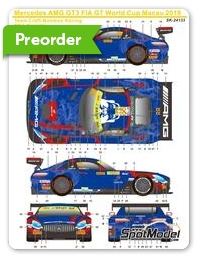 SK Decals: Marking / livery 1/24 scale - Mercedes AMG GT3 Craft Bamboo Racing Team #88 - Alessio Picariello (BE) - Macau FIA GT World Cup Championship 2019 - water slide decals and assembly instructions - for Tamiya references TAM24345 and TAM24350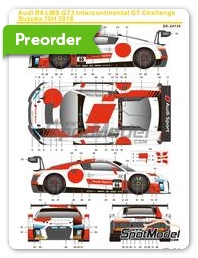 SK Decals: Marking / livery 1/24 scale - Audi R8 LMS GT3 Audi Sport WRT Team #66 - Christopher Mies (DE) + Dries Vanthoor (BE) + Frederic Vervisch (BE) - Suzuka 10 Hours 2018 - water slide decals and assembly instructions - for Nunu references PN24004, NU-24004, PN24004, NUNPN24004, PN24024, PN-24024, PN24026, NU24026, PN24028 and NU24028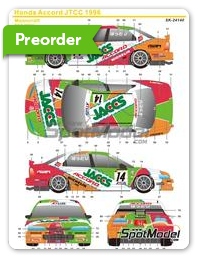 SK Decals: Marking / livery 1/24 scale - Honda Accord VTEC Mooncraft Team sponsored by JACCS #14 - Naoki Hattori (JP) - Japan Touring Car Championship (JTCC) 1996 - water slide decals and assembly instructions - for Tamiya references TAM24174, TAM24180 and TAM24183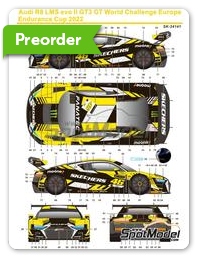 SK Decals: Marking / livery 1/24 scale - Audi R8 LMS GT3 Evo WRT Team sponsored by Skechers #46 - Valentino Rossi (IT) + Frederic Vervisch (BE) + Nico Müller (CH) - GT World Challenge Europe 2022 - water slide decals and assembly instructions - for Nunu references PN24026 and NU24026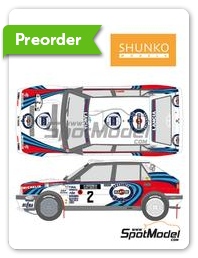 Shunko Models: Marking / livery 1/12 scale - Lancia Delta HF Integrale 16v sponsored by Martini Racing #2 - Juha Kankkunen (FI) + Juha Piironen (FI) - 1000 Lakes Finland Rally 1991 - water slide decals and assembly instructions - for Italeri reference 4709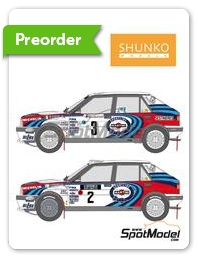 Shunko Models: Marking / livery 1/24 scale - Lancia Delta HF Integrale 16v sponsored by Martini Racing #2, 3, 9 - Juha Kankkunen (FI) + Juha Piironen (FI), Massimo 'Miki' Biasion (IT) + Tiziano Siviero (IT) - 1000 Lakes Finland Rally, Monte Carlo Rally - Rallye Automobile de Monte-Carlo 1991 - water slide decals and assembly instructions - for Hasegawa references 20289, 20343, 25005, CR-5, 20433, 25013, CR-13, 20457, 20507, 20548, 25015, CR-15, 25208, HACR08, HACR15, 25015 and CR-15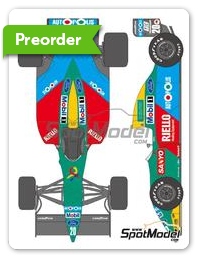 Shunko Models: Marking / livery 1/24 scale - Benetton Ford B190 Benetton Formula Ltd Team sponsored by Autopolis #19, 20 - Nelson Piquet (BR), Roberto Moreno (BR), Alessandro Nannini (IT) - FIA Formula 1 World Championship 1990 - water slide decals and assembly instructions - for Hasegawa references 20340, FS5, FS-5, 23010, CF10, CF-10, 51550, SP50, 23013, CF13 and CF-13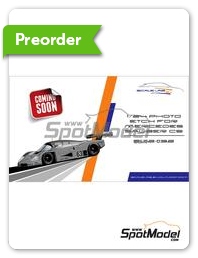 ScaleLab 24: Detail up set 1/24 scale - Sauber Mercedes C9 - 3D printed parts, photo-etched parts, seatbelt fabric, turned metal parts, other materials and assembly instructions - for Tamiya references TAM24091, TAM24310 and TAM24359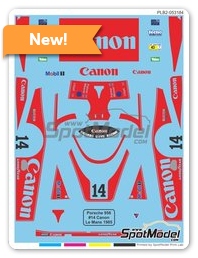 Print Lab Decals: Marking / livery 1/27 scale - Porsche 956 Richard Lloyd Racing Team sponsored by Canon #14 - Jonathan Palmer (GB) + James Weaver (GB) + Richard Lloyd (GB) - 24 Hours Le Mans 1985 - water slide decals manufactured with digital technology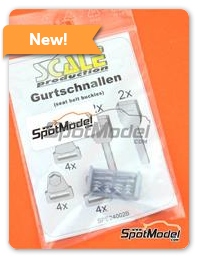 Scale Production: Seatbelts 1/24 scale - Seat belt buckles - 3D printed parts and seatbelt fabric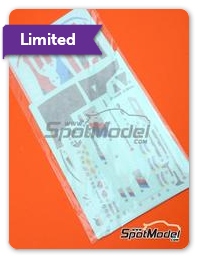 Nunu: Spare part 1/24 scale - BMW M8 GTE: Decals - water slide decals - for Nunu references PN24010 and NU-24010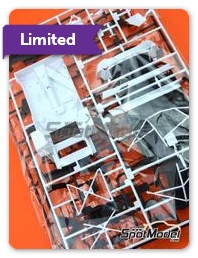 Nunu: Spare part 1/24 scale - BMW M8 GTE: Sprue A-B-C - plastic parts - for Nunu references PN24010 and NU-24010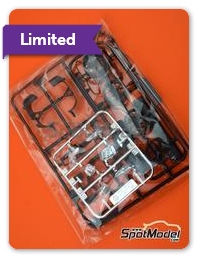 Nunu: Spare part 1/24 scale - BMW M8 GTE: Sprue D-E-W - plastic parts - for Nunu references PN24010 and NU-24010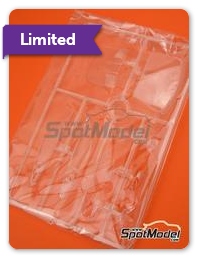 Nunu: Spare part 1/24 scale - BMW M8 GTE: Sprue F - plastic parts - for Nunu references PN24010 and NU-24010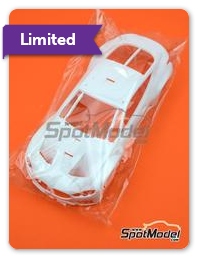 Nunu: Spare part 1/24 scale - BMW M8 GTE: Body - plastic parts - for Nunu references PN24010 and NU-24010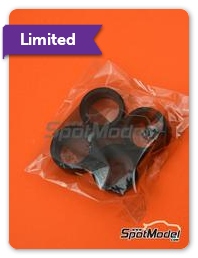 Nunu: Spare part 1/24 scale - BMW M8 GTE: Tyres - rubber parts - for Nunu references PN24010 and NU-24010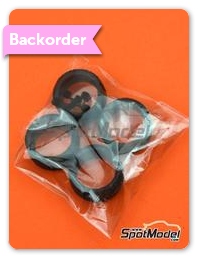 Nunu: Spare part 1/24 scale - Porsche 911 SC RS: Tyres - rubber parts - for Nunu reference PN24011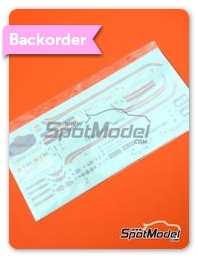 Nunu: Spare part 1/24 scale - Porsche 911 SC RS: Decals - water slide decals - for Nunu reference PN24011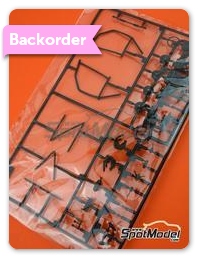 Nunu: Spare part 1/24 scale - Porsche 911 SC RS: Sprues B and C - plastic parts - for Nunu reference PN24011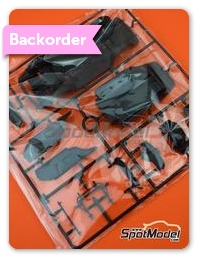 Nunu: Spare part 1/24 scale - Porsche 911 SC RS: Sprue A - plastic parts - for Nunu reference PN24011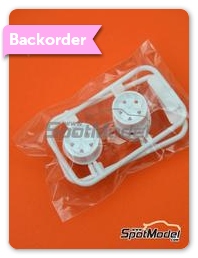 Nunu: Spare part 1/24 scale - Porsche 911 SC RS: Sprue W - plastic parts - for Nunu reference PN24011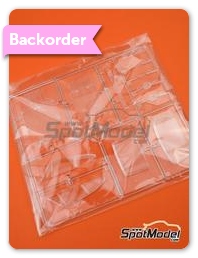 Nunu: Spare part 1/24 scale - Porsche 911 SC RS: Sprue K - plastic parts - for Nunu reference PN24011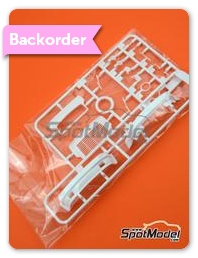 Nunu: Spare part 1/24 scale - Porsche 911 SC RS: Sprue D and E - plastic parts - for Nunu reference PN24011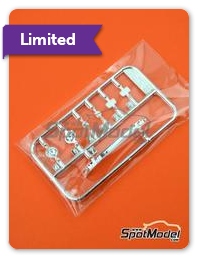 Nunu: Spare part 1/24 scale - Porsche 911 SC RS: Sprue F - plastic parts - for Nunu reference PN24011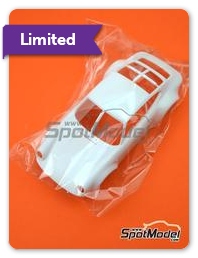 Nunu: Spare part 1/24 scale - Porsche 911 SC RS: Body - plastic parts - for Nunu reference PN24011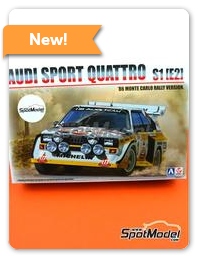 Beemax Model Kits: Model car kit 1/24 scale - Audi Sport Quattro S1 Group B Audi Team Team sponsored by HB International #2, 5, 6 - Hannu Mikkola (FI) + Arne Hertz (SE), Walter Röhrl (DE) + Christian Geistdörfer (DE) - Monte Carlo Rally - Rallye Automobile de Monte-Carlo, Sanremo Rally 1985 and 1986 - plastic parts, rubber parts, water slide decals, other materials, assembly instructions, painting instructions and does NOT include tobacco sponsor decals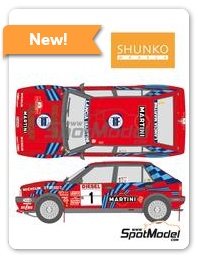 Shunko Models: Marking / livery 1/12 scale - Lancia Delta HF Integrale 16v sponsored by Martini Racing #1, 5 - Massimo 'Miki' Biasion (IT) + Tiziano Siviero (IT), Didier Auriol (FR) + Bernard Occelli (FR) - Sanremo Rally 1989 - water slide decals and assembly instructions - for Italeri reference 4709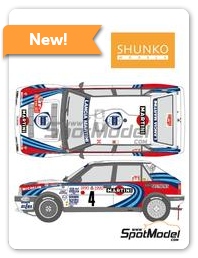 Shunko Models: Marking / livery 1/12 scale - Lancia Delta HF Integrale 16v sponsored by Martini Racing #4 - Juha Kankkunen (FI) + Juha Piironen (FI) - Monte Carlo Rally - Rallye Automobile de Monte-Carlo 1990 - water slide decals and assembly instructions - for Italeri reference 4709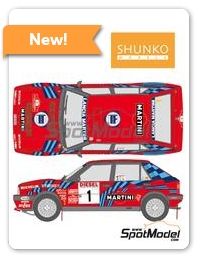 Shunko Models: Marking / livery 1/24 scale - Lancia Delta HF Integrale 16v sponsored by Martini Racing #1, 5 - Massimo 'Miki' Biasion (IT) + Tiziano Siviero (IT), Didier Auriol (FR) + Bernard Occelli (FR) - Sanremo Rally 1989 - water slide decals and assembly instructions - for Hasegawa references 20289, 25208 and HACR08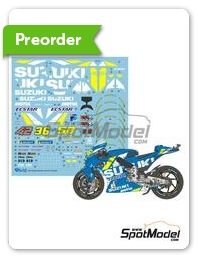 Blue Stuff: Marking / livery 1/12 scale - Suzuki GSX-RR Suzuki Ecstar Team sponsored by Motul #36, 42, 50 - Joan Mir (ES), Alex Rins (ES), Sylvain Guintoli (FR) - Moto GP World Championship 2019 and 2020 - water slide decals, assembly instructions and painting instructions - for Tamiya reference TAM14139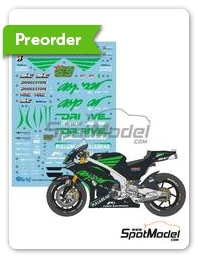 Blue Stuff: Marking / livery 1/12 scale - Honda RC213V Aspar MotoGP Team sponsored by Pull&Bear #69 - Nicky Hayden (US) - Test version, Moto GP World Championship 2015 - resin parts, water slide decals, assembly instructions and painting instructions - for Tamiya reference TAM14130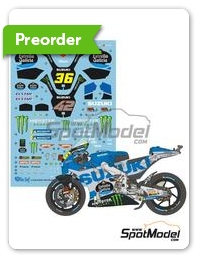 Blue Stuff: Marking / livery 1/12 scale - Suzuki GSX-RR Suzuki Ecstar Team sponsored by Estrella Galicia #36, 42 - Joan Mir (ES), Alex Rins (ES) - Moto GP World Championship 2022 - water slide decals, assembly instructions and painting instructions - for Tamiya reference TAM14139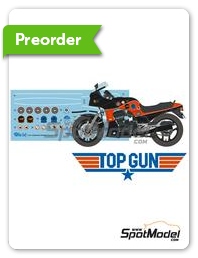 Blue Stuff: Marking / livery 1/12 scale - Kawasaki GPZ900 sponsored by Top Gun 1986 - water slide decals, assembly instructions and painting instructions - for Aoshima kits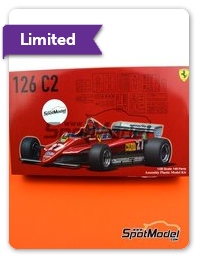 Fujimi: Model car kit 1/20 scale - Ferrari 126C2 Scuderia Ferrari Team sponsored by Agip Fiat #27, 28 - Gilles Villeneuve (CA), Didier Pironi (FR) - Belgian Formula 1 Grand Prix, Monaco Formula 1 Grand Prix, San Marino Formula 1 Grand Prix, USA West Long Beach Formula 1 Grand Prix 1982 - plastic parts, rubber parts, water slide decals, assembly instructions and painting instructions
Copyright © SpotModel